When I see beautiful loaves of rustic bread lined up on the shelf in a fancy bakery, it always makes my mouth water. I can just taste the crispy crust that crunches when I bite it.
Oh, and that chewy middle that's born to dunk in soup, slather with butter, or top with a bit of sharp cheddar cheese. Bread bliss.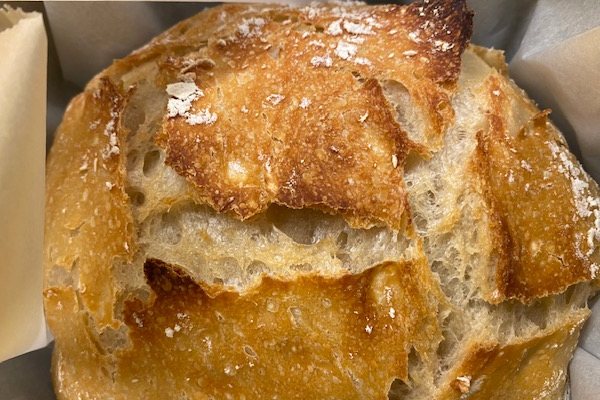 Recently, I began to see recipes for making it at home. I'm not sure why I waited so long but I finally made a loaf of my own this week. The picture you see is MY FIRST ATTEMPT! Sorry to shout but it was gorgeous and So. Very. Delicious!
No Mixer No Kneading No Kidding
I was totally shocked by the results and even more amazed at how easy and inexpensive it was to make! Literally four ingredients, that's it!
A bowl and spoon are all you need to make the dough. Once you've mixed up the ingredients, cover the bowl tightly with plastic film. Then, the dough can sit on the counter and wait for 8 hours or up to 24 hours until you are ready to bake it!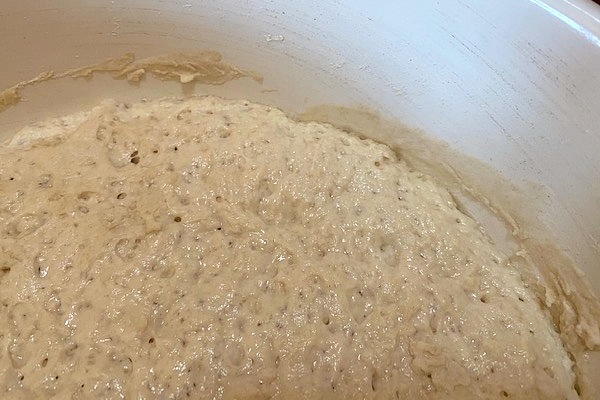 It only takes a few minutes to gather the bubbly dough with floured hands and form it into a plump round loaf.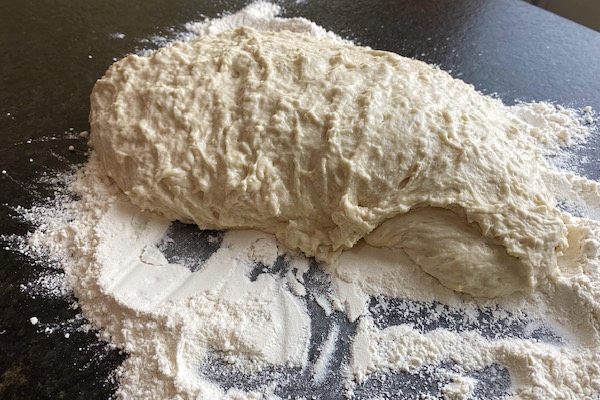 Let that loaf rest for about 30 minutes under a sheet of plastic film while the Dutch oven is preheating.
Once it is preheated, carefully take the Dutch oven out of the oven. Now move that loaf to a sheet of parchment paper and lower it into the hot Dutch oven.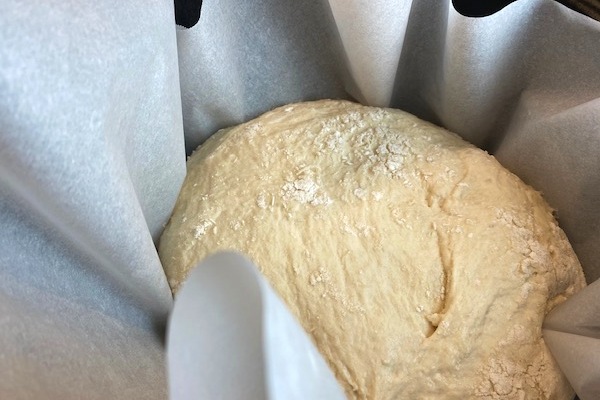 Finally, bake it, covered, at 450 degrees for half an hour while the steam that forms works its magic. Then uncover and bake it for a few minutes longer until the crust browns to a lovely honey gold color. A beautiful, professional-looking rustic loaf!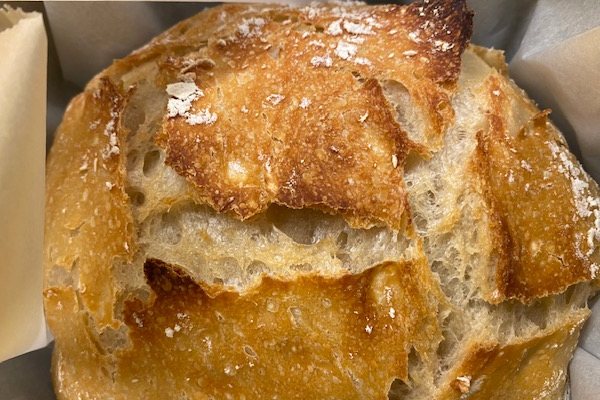 Rustic Bread The Yeasty Crispy Chewy Reward
Use the parchment paper as a sling to lift the bread out of the Dutch oven onto a cooling rack. Allow it to cool slightly, then slice with a serrated bread knife and enjoy!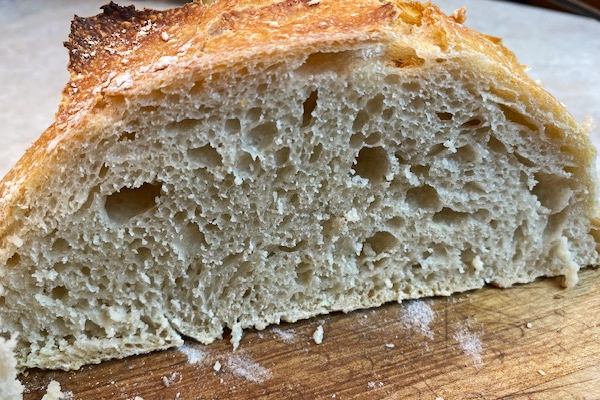 I sent this loaf along with a pot of beef noodle soup to our daughter and her family. It was hard to let it go, I will admit it, but I did snitch a slice for Papa and me to share!
Our daughter is grinding out the last weeks of completing her Master's degree online (while teaching full time in a pandemic!) so once in a while, I try to do something to help take the load off!
Besides that, Papa and I can't eat everything I want to cook and write about so it's a solid win/win. Right? I'm always looking for volunteers!
Yield: 1 loaf
Beautiful Rustic Dutch Oven Bread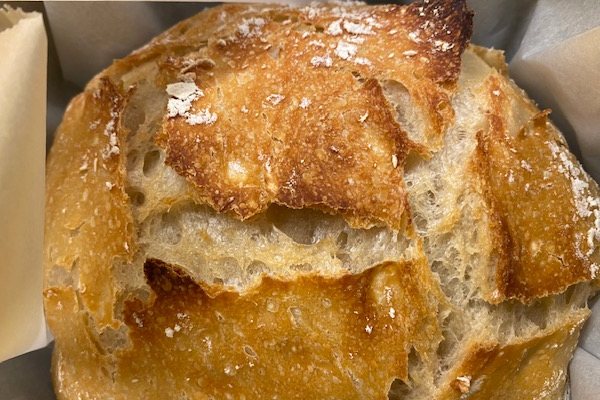 Incredibly easy rustic bread loaf with a crisp crust and chewy middle. No mixer, no kneading, no kidding.
Total Time
8 hours
50 minutes
Ingredients
3 cups all purpose flour
1 1/2 cups warm water. (About 110 degrees, like a warm bath.)
2- 3 tsp kosher salt
1/2 tsp fast rising dry yeast
Instructions
Mix the flour, salt, and yeast thoroughly in a large bowl, then add warm water.
Stir with a wooden spoon until everything is combined, forming a somewhat sticky dough.
Cover the bowl tightly with plastic wrap. Leave out at room temperature for 8 hours or up to 24 hours. The dough will bubble up and rise.
When you are ready to bake it, preheat the oven to 450 degrees.
Put your empty, uncovered Dutch oven into the preheated oven for 30 minutes so it's nice and hot.
While your Dutch oven preheats, turn dough onto a well-floured surface and, with floured hands, form the dough into a ball. It is not necessary to knead the dough, just gently form it into a ball. Cover dough loosely with plastic wrap and let it rest.
When the Dutch oven has preheated for 30 minutes, remove it carefully from the oven. Working quickly, place the ball of dough on a sheet of parchment paper and carefully place it in the Dutch oven. Put the lid on the Dutch oven and return it to the hot oven.
Bake the bread, covered, for 30 minutes.
Remove cover and continue baking for about 10 or 15 minutes more, until the crust is a beautiful golden brown.
Watch to make sure the bread does not get too brown.
Use the edges of the parchment paper to remove dough from the Dutch oven and place it on a rack to cool.
Allow bread to cool slightly, then slice with a serrated bread knife and serve.
Side note: I absolutely love my Pampered Chef Rock Crock Dutch oven. It's lighter than other Dutch ovens, dishwasher safe, and can withstand temperatures up to 750 degrees. I've found it to be quite a workhorse!
Please Share Your Dutch Oven Bread Experiences With Me
I hope you hurry up and try this gorgeous rustic bread. I think you'll be as surprised and delighted as I was! There's another batch sitting on my counter right now for me to bake before I go to bed tonight.
Don't you think this recipe would make amazing bread bowls for soup? Another time, I think I'll try making four smaller loaves, put each one in its own sheet of parchment, and bake them in my huge heavy aluminum roaster! Stay tuned!
If you enjoyed this recipe today, please share it on your social media accounts like Facebook, Instagram, Twitter and Pinterest. I'd sure be tickled and ever so grateful, thank you!
Love, GB (Betty Streff)
Sharing is caring!