Zucchini Bread made with real butter trumps every recipe out there for the best flavor and texture! Because we all know, nearly everything tastes better with butter.
There's a joke that goes around in rural Nebraska about this time every summer. Folks are warned not to leave their cars unlocked because if they do, they might find a back seat full of zucchini!
Zucchini is prolific and grows so fast you can almost watch it getting bigger! If left on the vine too long, zucchini can grow to the size of a ball bat or bigger!! Yikes!!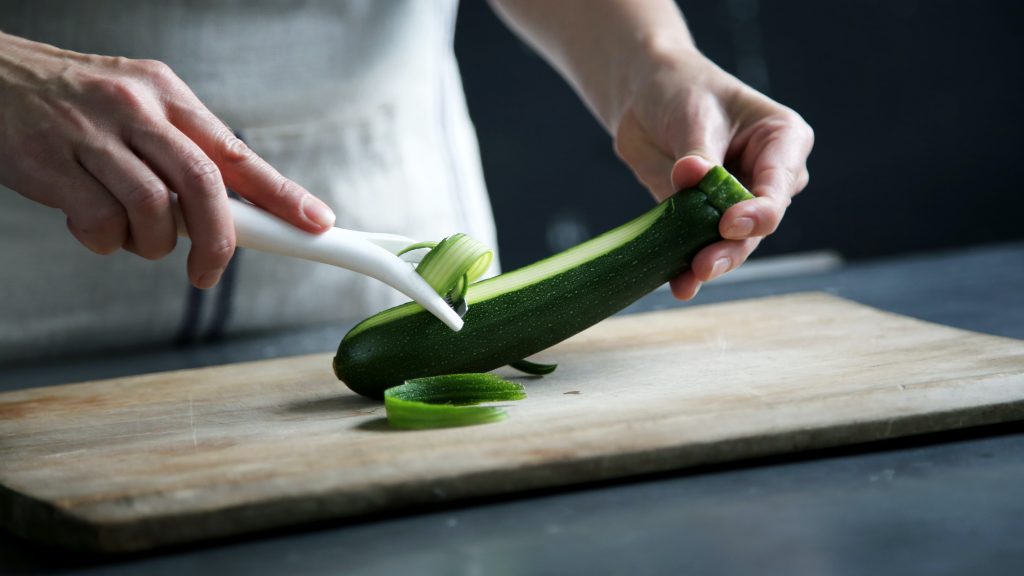 Fresh zucchini is abundant and at its peak right now so it's a perfect time to try this wonderful recipe!
There are as many recipes for zucchini bread as there are good cooks in Nebraska but, hello? When I tried making it with real butter? One simple change took a favorite right over the top!
First, beat together the sugar and butter until light and fluffy, then add eggs and beat it some more! Now stir in the salt, vanilla, baking powder, soda and spices until they are all blended in.
Next, take one of those zucchinis you found in the back seat (just kidding) and shred it fairly fine. You don't even have to peel it!
Measure out two and a half cups, pressing down as you go. You want the cups packed full.
Now, add the shredded zucchini to that beautiful batter, alternating with flour until it's all stirred in but be careful not to overmix.
Grease only the bottom of the pan so the bread can hang onto the sides and get taller as it bakes. This recipe makes two medium 8.5" by 4.5" loaves but I always make some into mini-size loaves.
That's because I love to share or have a little treat tucked in the freezer when a friend needs some extra love.
Years ago, our county extension clubs promoted an annual "bake and take day" every March. It was so much fun to give and receive those home-baked goodies!
To this day, that little gesture of neighborliness has been ingrained in me and it never fails to bring me joy!
Don't forget to sprinkle some cinnamon sugar on top before you bake! Adds a bit of extra crunch and unbeatable flavor.
Slice your tender, fragrant, beautiful loaf and inhale the spicy goodness! Then, slather on some more real butter and enjoy!!
Never too much butter, right? Right now when zucchini is so abundant, make plenty to freeze and share!! I'll bet someone you know could use some zucchini love!!
Total Time
1 hour
5 minutes
Ingredients
3 cups flour
1 Tbsp cinnamon
1/4 tsp nutmeg
1/4 tsp ground cloves
1 tsp salt
1 tsp baking soda
1/2 tsp baking powder
2 cups sugar
1 cup real butter (two sticks)
3 large eggs
2 1/2 cups shredded zucchini pressed down in cup
2 Tbsp cinnamon suggar for topping
Instructions
Beat sugar and butter together until soft and fluffy. Add eggs and beat again until well blended.
Add spices, baking soda, and baking powder. Mix well.
Add zucchini and gradually beat in the flour, stopping to scrape down the sides of the bowl. Keep mixing on low speed just until all flour has been blended in. Don't over mix. Optional: Add 1/2 cup walnuts or pecans to the batter.
Put in two medium loaf pans (8.5" by 4.5") that have been sprayed or well-greased on the bottom only. (This lets the bread rise higher.) Sprinkle with cinnamon sugar for a slightly crunchy top.
Bake at 350 degrees about 55 minutes or until a toothpick or skewer comes out clean. Let cool in pan about 10 minutes on a cooling rack then invert and bread should slide right out.
This can be made into mini loaves or muffins, reduce the baking time. Great for sharing!
Cool, slice, enjoy. Wrap up leftovers in plastic film to keep fresh. Freezes well.
Nutrition Information:
Yield:
24
Serving Size:
1
Amount Per Serving:
Calories:

204
Total Fat:

9g
Saturated Fat:

5g
Trans Fat:

0g
Unsaturated Fat:

3g
Cholesterol:

44mg
Sodium:

231mg
Carbohydrates:

30g
Fiber:

1g
Sugar:

17g
Protein:

3g
What are some of your favorite things to do with all that zucchini?
If you enjoyed this recipe today, please share it on your social media accounts like Facebook, Instagram, Twitter, and Pinterest. I'd sure be tickled and ever so grateful, thank you!
If you haven't already, check out my Facebook page where I'll be posting easy, delicious and family-friendly recipes every week!