This mouthwatering bacon-wrapped chicken recipe has been around for a long time. It's hard to go wrong when you start with skinless boneless chicken breast, right? When you wrap every piece of chicken in bacon, it gets even better. Do you agree?
The small amount of dried beef in the first layer adds a surprising amount of flavor. Then when you smother it in a tasty sauce made of sour cream and mushroom soup, magic happens.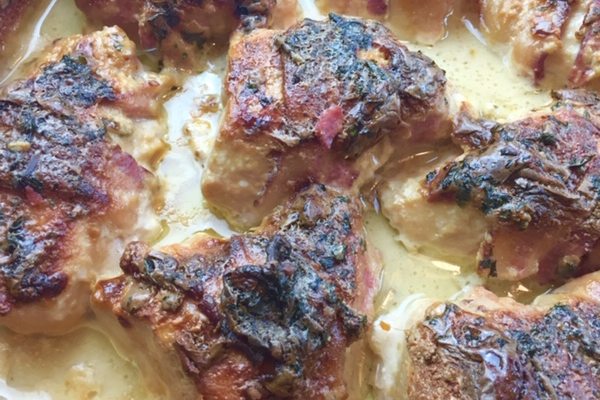 I made this chicken dish for a bunch of teenagers today. We have two grandkids graduating this year and seniors are free to leave campus for lunch.
So, once a week I invite them to have lunch at our house and bring friends! Today was a record, we had 8!! It made me grin ear to ear.
Everyone Loves This Delicious Chicken
I love cooking for these kids and oh my goodness they can put away a ton of food! Each week I savor every precious moment of laughing teenagers clustered around the old wooden table in my humble kitchen. Memories made and cherished.
Bacon-Wrapped Chicken Is Budget-Friendly And Simple To Make
And did I mention it's simple to do!? Everything in the meal was on special so I was pretty excited. The bulk boneless, skinless chicken breast was only $2.99 a pound, the bacon on sale for $1.99, and the package of dried beef was only $1.89.
The chicken breasts were Paul Bunyan size so I cut them into approximately 6-8 ounce serving pieces. I used half the package of bacon and the whole 3-ounce pouch of dried beef.
I make this in a favorite well-aged stoneware pan from Pampered Chef but a cast-iron Dutch oven or Le Crueset baking dish would be awesome.
You can use an ordinary glass or aluminum pan but a heavy pan will give you the best results. Keep an eye on regular pans, lower the oven temperature a little and lightly tent with foil if it begins to brown too quickly.
This chicken dish is meant to be slow-cooked in the dry heat of an oven. That's how the sauce gets so thick and creamy.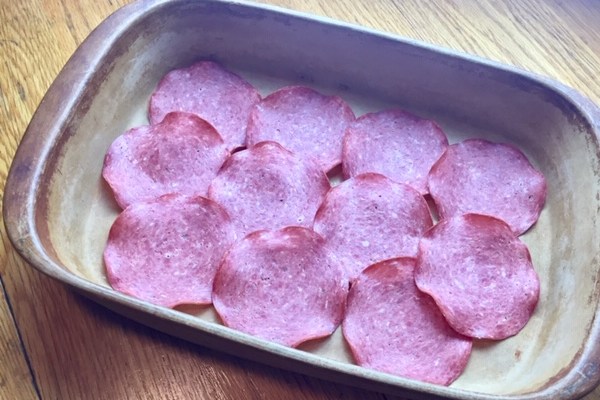 Start With A Layer Of Dried Beef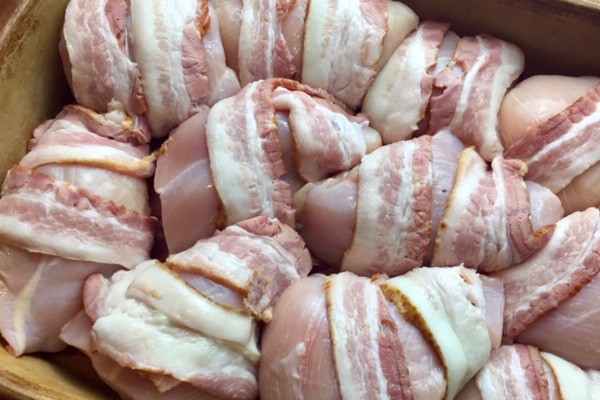 Top With Bacon-Wrapped Chicken Breast
Smother It In The Creamy Flavorful Sauce
Once this dish is in the oven, you're free to roam and can pretty much go do whatever else you need to do while this bakes happily. When it's baked in a slow oven using a heavy pan, it doesn't dry out. The slow, low dry heat of the oven makes all the yumminess mingle, marry, and form the great sauce.
This chicken entree is so rich and flavorful, it's perfect served with a plainer potato, noodles or rice because there's an ah-may-zing sauce that forms. I often opt for buttery homemade mashed potatoes, also easy on the budget, and always a hit.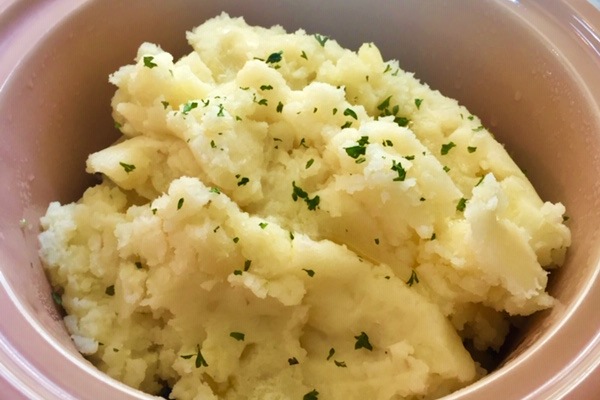 Homemade Rolls Are A Great Add-On
The kids devoured it all! But, this crew isn't keen on vegetables. So I learned an inexpensive little trick to get some veggies on their plate. They'll load up on french cut green beans if I drizzle them with a little olive oil and a sprinkle of kosher salt!
I always have a little something sweet for them and often it's something simple like Desperation Cookies or a pan of Lemon Bars. As the kids file out the door and back to class, they grab and go. I'll never forget these special lunches. We won't have a senior again for a year so I will savor every memory until then. Meanwhile, I can't wait until next week!
Yield: 10 servings
Bacon Wrapped Chicken Breast With Dried Beef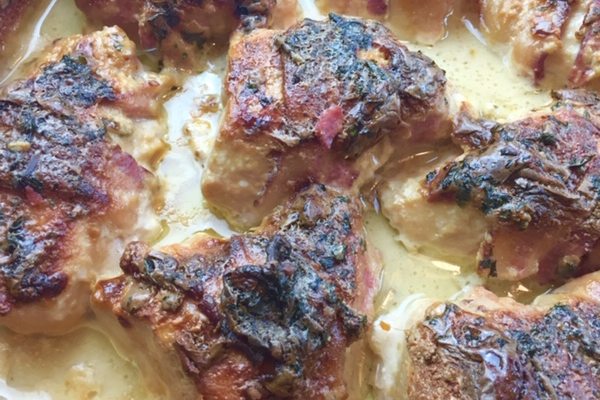 Fork tender chicken that forms a delicious, creamy sauce. Easy to throw together then bake it in a slow oven for 3 hours,
Total Time
3 hours
10 minutes
Ingredients
5 pounds skinless boneless chicken breast cut into serving-size pieces
1/2 pound bacon
3 ounce package dried beef
1 family size can cream of mushroom soup
1 cup of sour cream (or more)
2 Tbsp Worchestershire sauce
2 cloves garlic, mashed
Instructions
Put a layer of dried beef in the bottom of a heavy baking pan. Stoneware or dutch oven is ideal.
Rinse, trim, and pat boneless chicken breast and cut into serving-size pieces, about 6 to 8 ounce each.
Wrap each chicken breast in about half a strip of bacon.
Mix together soup, sour cream, Worchestershire sauce, and garlic and spread evenly over the chicken breasts. for 3 hours. If bacon starts to get too brown, lightly tent with aluminum foil.
Bake uncovered in a slow oven 300- 325 degrees
No matter what you serve alongside this tender, delicious chicken you'll get compliments!! What's your favorite chicken dish? Please share! Always looking for something new.
Update! Last time I served this the boys loved the sauce so much they asked me to make extra next time so they could spoon some over their mashed potatoes. I have to agree, this sauce is boss!
If you enjoyed this recipe today, please share it on your social media accounts like Facebook, Instagram, Twitter and Pinterest. I'd sure be tickled and ever so grateful, thank you!
If you haven't already, check out my Facebook page where I'll be posting easy, delicious and family-friendly recipes every week!