Sourdough bread is nearly addictive. It has a unique crisp crust and a chewy interior. It makes amazing toast or grilled sandwiches. Not all restaurants offer sourdough bread as an option but when they do, consider yourself lucky. Always choose sourdough!
Here's The Scoop On The Fascinating History Of Sourdough Bread
Bread has been a staple food for all of human history. The first documented production of sourdough bread was in Egypt, likely around 1500 BC. Egyptians observed when flour and water were left out long enough to ferment, the resulting dough increased in volume and could be baked into bread.
Jewish people learned how to make sourdough bread in Egypt and took that discovery with them when they fled the region. From then on, sourdough spread throughout Europe and the Middle East, becoming a common and popular way to make bread.
This method grew in significance until dry yeast as we know it today was introduced in the mid-1800s.
Sourdough became popular in the United States, too. During the California and Klondike gold rushes, sourdough was a staple food of gold miners because of its long shelf life and use as a leavening agent. Sourdough continues to be popular in these areas today, and some bakeries claim that their sourdough is the same strain that was used over 150 years ago.
How My Excellent Sourdough Adventure Began
My personal sourdough baking adventure started when my friend Colleen put a message out on Facebook. "Who would like some sourdough starter? I have way more than I can use." It sounded like an intriguing experiment for the newly found time on my hands at the height of the shelter-at-home phase of the COVID 19 virus.
I drove out to her home to pick up my new project. She handed me an innocent-looking little Rubbermaid container filled with the newly made starter. Then, she gave me a sheet of instructions and a sheaf of recipes in a manila file folder. This warning was boldly written in red marker on the cover. NEVER USE A METAL SPOON OR BOWL!
When I started to drive away, she chuckled softly and said, "You might be sorry you got involved with this undertaking. It's one more thing to add to your daily to-do list!" I heard what she said but I kept thinking about what terrific grilled sandwiches it would make.
Every Day It's The Same Old Thing Stir Stir Stir
When I got home, I transferred the cupful of starter into an old green Tupperware lettuce crisper bowl and gave it the first feeding of milk, sugar, and flour. After all the lumps were dissolved, I snapped on the lid and put it in the refrigerator.
The instructions said to use a container that is at least four times larger than the original amount of starter. My bowl holds two quarts so it's a perfect size.
For the next four days, I simply stirred it well and put it back in the refrigerator. On day five I fed it again. Then, for four more days I stirred, I covered, and I refrigerated my starter.
On the tenth day, hallelujah, it was finally time to bake some bread!
This Is How To Make Your First Loaf Of Sourdough Bread
This recipe makes 2 loaves of San-Francisco style sourdough bread.
Measure out 1 1/2 cups of starter to make your first two loaves. Today you can give a cup of starter to a friend the way Colleen did. However, I have kept all the starter for myself most of the time. I just feed it and return it to the refrigerator.
When I do it this way, I have more starter to work with and can bake four loaves instead of two each time. This makes very happy friends!
I used a stand mixer from start to finish and found it was extremely easy to do. Of course, you can choose to do it with a hand mixer or spoon and knead the dough by hand. Channel your inner log cabin dweller if you like. It's entirely up to you. But for this, I love my big strong Kitchen Aid mixer. It is a dependable old friend.
To the starter, you will add warm water, yeast, sugar and salt, and a little butter. I like to use the whip attachment at first to get everything well blended and start developing the gluten. When I've added enough flour that the mixture starts getting too thick, I change to a dough hook.
Next, I add flour gradually until the magic moment when the dough starts to pull away and "clean" the sides of the bowl, like in the picture above. At this point, I add flour in tiny increments. I add only enough until I can pinch the dough without it feeling sticky.
Sourdough produces a smooth ball of dough that is silky and smooth as a baby's cheek. It is truly a joy to handle.
Here's How To Bake Your First Loaf Of Sourdough Bread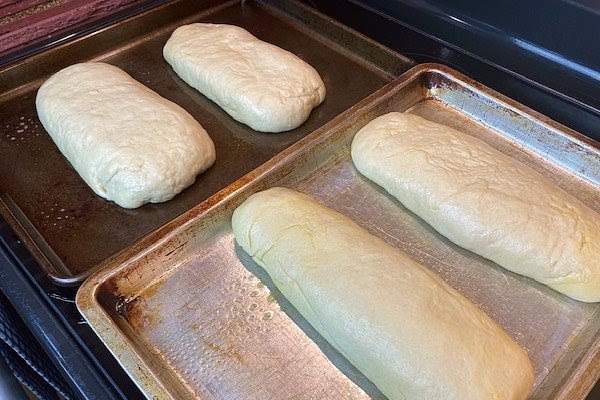 Now you can shape your loaves and put them on a sheet pan you have greased or sprayed. It will typically take a little longer to rise that ordinary yeast bread. As it does, it forms a beautiful texture so be patient! The dough needs to rise until it's double in size.
Find a nice warm spot in your kitchen and cover the loaves lightly with a clean towel. Now, wait while the yeast works its magic. Tick-tock, tick-tock.
When the bread has doubled in size, score the top of each loaf in several places with a serrated knife. Using a pastry brush, gently apply the egg wash evenly over the entire surface of the loaves. This is what gives the bread it's beautiful, crispy, golden crust.
Now bake until it's evenly browned and sounds hollow when you tap on the surface. Set on a rack to cool and try to control your urge to tear into the hot loaf!!
Give your loaves a chance to cool a bit so you can handle them easily. Slice off a piece while it's still warm and slather on some real butter. This, my friend, is bread heaven.
More Delicous Things You Can Make With Sourdough Starter
Later, you can use this amazing loaf to make the most delicious grilled cheese sandwiches ever. It's perfect in a panini press, too. Butter the outside of each slice and fill with shaved ham and paper-thin slices of sharp cheddar cheese. Yum! I bet it would make incredible French toast as well!
Sourdough starter can be transformed into more than just bread! Use it to make yummy cinnamon rolls, donuts, biscuits, or pancakes. Sourdough baking is very popular right now and with good reason.
There are no chemicals or preservatives in sourdough. It's full of beneficial bacteria that are good for gut health. It's easier to digest than commercially baked bread and has a lower glycemic index. Best of all, it tastes amazing! Go for the win!
Yield: 32 slices
San Francisco Style Sourdough Bread
A chewy golden brown bread with a distinctive flavor, perfect for grilled sandwiches
Total Time
3 hours
45 minutes
Ingredients
1 1/2 cups sourdough starter
4 3/4 cup flour plus a little more if needed
2 1/2 teaspoons salt
3 Tbsp white sugar
1  (.25 ounce) packet of yeast
1 cup warm water 
2 Tbsp butter or margarine
1 large egg white beaten with 1 Tbsp warm water
1 Tbsp cooking oil or non-stick cooking spray
Instructions
Dissolve yeast in warm water.
Add salt, sugar, butter, and one cup of flour. Beat together with whip attachment of a stand mixer.
Add starter and continue to add flour gradually.
When the batter gets too thick for whip attachment, switch to a dough hook.
Gradually add remaining flour until dough begins to form a ball and cleans the sides of the bowl.
If needed, add flour a tablespoon at a time until you can pinch the dough without it sticking to your fingers.
Remove dough from the bowl and form it into a ball.
Spray or grease the bowl and return the dough to the bowl. Put a small amount of oil on the surface of the dough or spray with non-stick spray.
Cover the bowl lightly with a clean dish towel and let rise until doubled in size. This may take 60-90 minutes.
Remove the dough from the bowl and divide it in half.
Shape the dough into two loaves and place on a greased or sprayed baking pan.
Cover lightly with a dish towel and set in a warm place to rise until it has doubled in size. This may take 60-90 minutes.
Score loaf in several places with a serrated knife.
Combine egg white and 1 Tablespoon of water in a small bowl and beat lightly.
Use a pastry brush to gently paint egg wash evenly over the entire surface of each loaf of bread.
Bake in a 375-degree oven for about 30 minutes or until the crust is golden brown and the loaf sounds hollow when tapped.

Nutrition Information:
Yield:
32
Serving Size:
1
Amount Per Serving:
Calories:

105
Total Fat:

2g
Saturated Fat:

1g
Trans Fat:

0g
Unsaturated Fat:

1g
Cholesterol:

8mg
Sodium:

174mg
Carbohydrates:

20g
Fiber:

1g
Sugar:

1g
Protein:

3g
No Starter No Problem You Can Make Your Own
If you don't have a friend like Colleen who gives you some of her sourdough starter, don't despair! It's very simple to make your own with just a few pantry ingredients. It will take a little bit longer but will be ready to use in 15 days. Here's a sweet starter recipe for you. Sometimes it's known as a "Herman" starter.
Once you start baking with Herman, you can make a fresh batch of bread, donuts, pancakes, cinnamon rolls, muffins, or even brownies every ten days. You can find loads of recipes online! And, with good care, your starter can live for many years and you can share it with all your friends!
What will you make with your starter? Sourdough bread is a great place to start and it tastes so good the first loaf will disappear before you know it. I'd love to hear what kind of sandwiches you make with it. Please share your ideas!
If you enjoyed this recipe today, please share it on your social media accounts like Facebook, Instagram, Twitter, and Pinterest. We'd be tickled and ever so grateful, thank you!
If you haven't already, check out our Facebook page where we'll be posting easy, delicious, and family-friendly recipes every week!