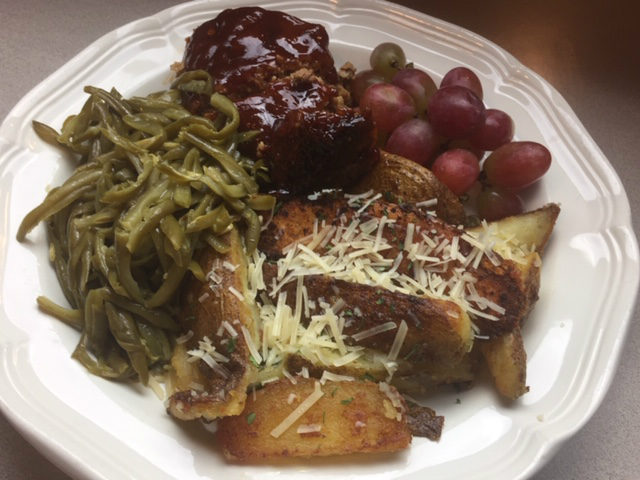 Hurry, hurry, we're soooo hungry!!
Comfort food doesn't need to take all day! Here's a quick and satisfying dinner for four that's full of old-fashioned flavor and ready in 30 minutes or less! I've been a working girl all my life and I've learned lots of shortcuts! Think it takes a long time to put a meal like this on the table? Think again. Come on over and I'll show you how.
Start with a pound of ground beef, some russet potatoes and canned french-cut green beans (a staple on it's own in my pantry!) Here we go!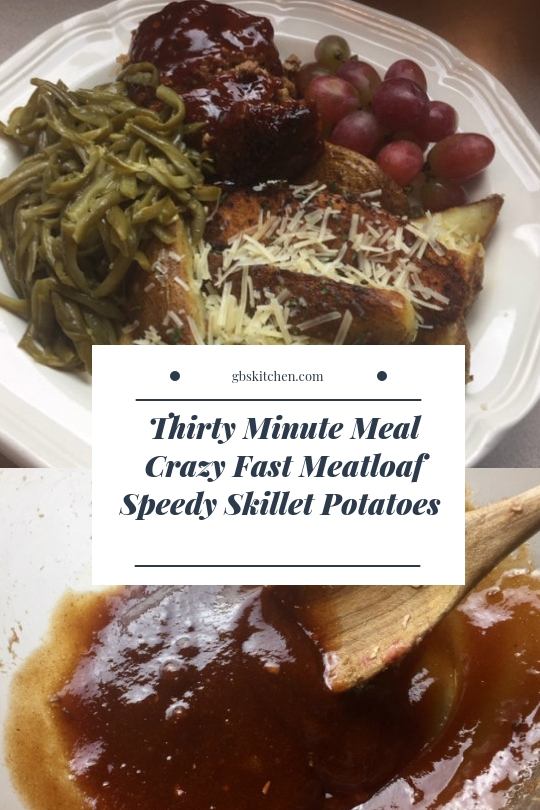 We're gonna start with the potatoes
They can cook while we get the meatloaf going. Grab your trusty non-stick skillet with a snug-fitting lid. Put a small puddle of olive oil and about 2-3 tablespoons of butter in it.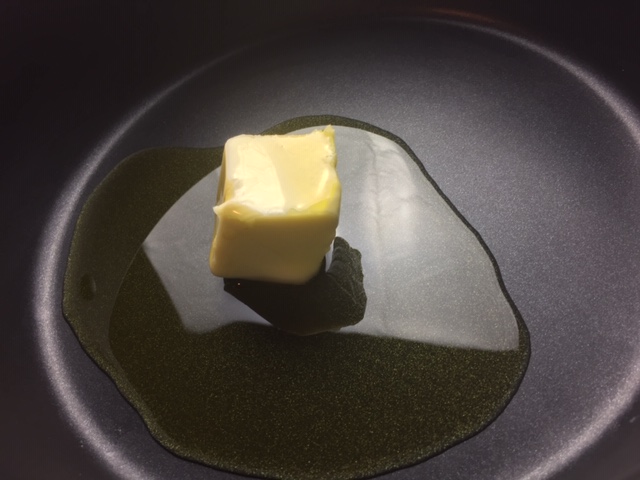 Scrub and dry potatoes, cut in wedges.
I used rather large baking potatoes so I just cut up two. If your potatoes are smaller, use more. Put them in the skillet, add seasoned salt, pepper, and garlic powder to your liking. Cover tightly, shaking pan and stirring occasionally until they are tender. About 15 minutes.
Meanwhile, we'll make the meatloaf!
Many, ok – many, many years ago, I found a meatloaf recipe on a box of Quaker oatmeal. Over time, I've tweaked it and scrambled when I was out of something and it's become my go-to recipe. The epiphany that I could make it in the microwave was a game changer and that's when I added the sauce to keep it from looking like, well, like hamburger cooked in a microwave. "Greige" is the color that would best describe it. Not pretty. That's why the sauce happened and it made this meatloaf sing!
GB's Go-To Meatloaf
This meatloaf recipe is adapted from one I found many, many years ago on an oatmeal box. It bakes beautifully in a 350 degree oven if you have time. Easily doubled.
Ingredients
1

pound

ground beef

1/2

cup

quick oatmeal (not instant!)

1/2

cup

ketchup

1/4

cup

water

1

tsp

instant minced onion

more if you like

seasoned salt, garlic powder and pepper

to taste

1

egg
SAUCE
1/2

cup

ketchup

1/4

cup

brown sugar

1

Tbsp

Worchestershire Sauce
Instructions
Combine all ingredients in a bowl. Use a spoon or your hands to mix ingredients thoroughly. Can add a little more oatmeal- up to 1/4 cup -to make it more "shape-able." Make mixture into a round loaf and put in a greased, microwave-safe pie plate. Cover loosely with wax paper or plastic film. Cook on high for about 15 minutes, until it is firm in the center. Uncover and put sauce over the top. Cook 2 minutes or so longer in microwave.
For sauce, combine ingredients and stir well. (I use the same bowl as I used to make the meatloaf!)
Mix it up
Shape it
Bake it, top it and bake it again fast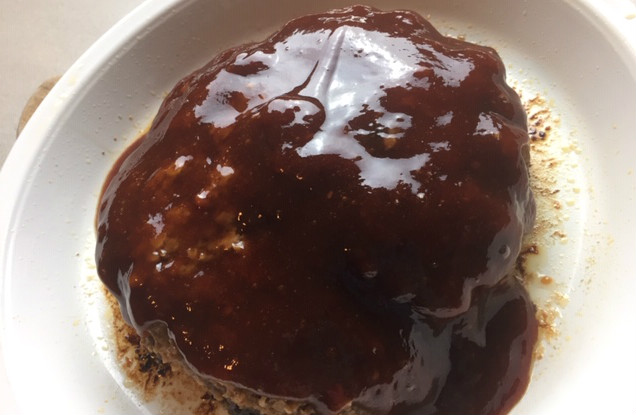 While the meatloaf bakes, we'll finish up the potatoes!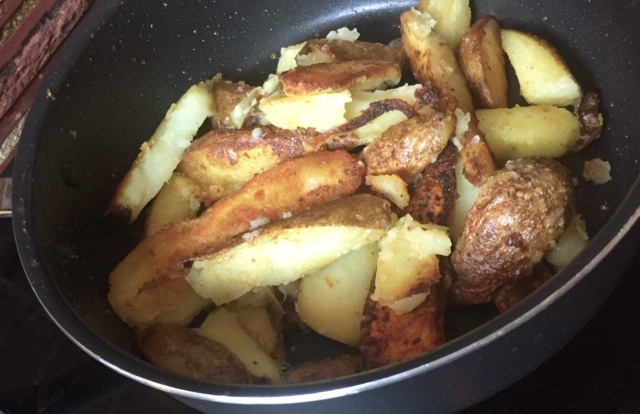 Uncover and let them brown. Use a wooden spoon or other non-scratch utensil to scrape up all the tasty brown bits from the pan. The best part!
I like to use french-cut green beans because they have a pleasing look and texture and it just seems like a more generous serving. Microwave, drain well. Hint! Just before you serve, give the beans a quick drizzle of olive oil and a sprinkle of kosher salt. This small step elevates them to something special!
Fill your plate and enjoy!!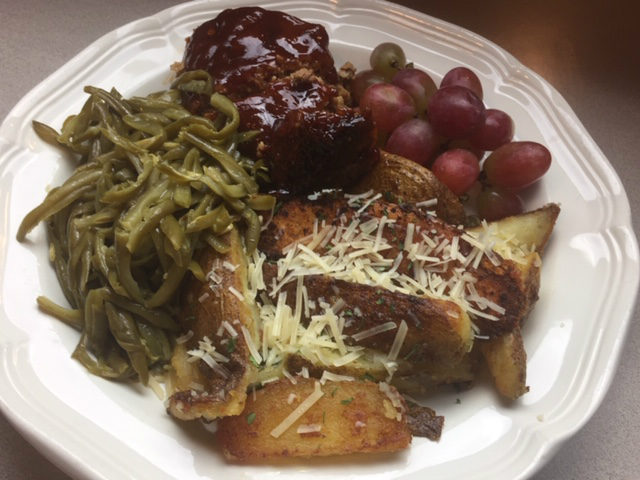 I'm a garnish hound, even at home. The potatoes are even better when you throw on a little fresh grated parmesan cheese! You might experiment with a spoonful of feta or crumbled bleu cheese if you prefer. I bet you'll make skillet spuds again and again! At our house, they're a winner every time! P.S. This works great with baby red potatoes, too!
If you enjoyed this recipe today, please share it on your social media accounts like Facebook, Instagram, Twitter and Pinterest. I'd sure be tickled and ever so grateful, thank you!
If you haven't already, check out my Facebook page where I'll be posting easy, delicious and family-friendly recipes every week!
Print Recipe