A sale on Italian Sausage started it all. Not long ago, I was flipping through my phone for dinner ideas. I probably do that about seventeen times a day. That time I ran into a white bean and spinach soup recipe and thought it sounded good.
Beans are a nutritional workhorse and cheap to boot. And my two favorite things about making soup are 1.) Only one pot to wash and 2.) Cook once, eat twice because soup's always better the next day!
A couple of weeks later I was zipping through a neighborhood grocery store for a few items and spotted a great deal on Italian sausage. A light bulb went off in my head! No wonder. My head is always dancing with thoughts of food, pictures of food, descriptions of food, and recipe ideas.
Wait! How about a marriage of Italian sausage, beans, spinach, and Parmesan? Bellisimo! I couldn't wait to scurry home and give it a try.
If You Want Quick Flavorful Soup That Tastes Like It Simmered All Day
You've come to the right place! Let's run to the store. Grab a package of bulk Italian sausage and head to the canned goods aisle for a can of petite diced tomatoes and some white beans! I prefer navy beans because they're smaller, but Great Northern Beans or other white beans will work just fine.
Make a quick visit to the produce section and grab a bag of fresh spinach. If you don't have a sweet onion or garlic at home, you'll need those too!
Next, stop in the soup aisle! Pick up some Better Than Bouillon chicken base and a package of Knorr Vegetarian Vegetable Bouillon cubes. Please make these items a staple in your pantry! They're fabulous products and both add incredible flavor to your homemade soups!
A topping of grated Parmesan is totally up to you but skipping it is like a kiss without a hug. And I'm talking grated Parmesan here and not the yucky powdered kind like at the pizza place. You know you want it. Last stop, the cheese section!
Plop that sausage in a tall stockpot. Brown it a bit and break it up. When it loses its pinkness, add the onion and garlic. Let that all saute a bit until the onions get soft and fragrant.
Italian Sausage And White Beans Combine In This Flavorful Soup
Once the onion and garlic get soft and fragrant and the sausage gets a little tinge of brown, drain, and rinse the beans and add them to the pot. Next, dump in the can of un-drained petite diced tomatoes for more color and Mediterranean flavor.
Finally, add the water along with the chicken base, pepper, and vegetable bouillon cubes. Simmer for a few minutes and stir to make sure the base and the bouillon are dissolved completely.
Add The Spinach And Now It's Five Minutes Until Soup
Chop the spinach coarsely and add to the soup for the last five minutes, just long enough for it to wilt and get tender. What great color it adds!
That's it! Less than 30 minutes after dropping your grocery bags on the counter, ladle yourself a steaming bowl of soup, top it with a handful of grated Parmesan and sit down to enjoy it.
Garlic toast is a perfect accompaniment to this yummy soup! While you've got the oven on, why not stir up a batch of busy day lemon bars for dessert?! You don't even need to get out your mixer!!
Italian Sausage and White Bean Soup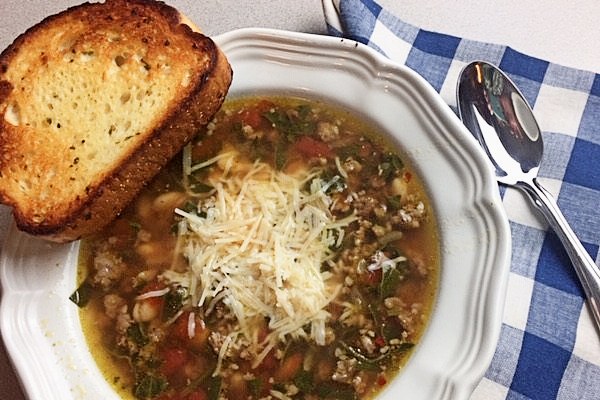 This hearty, flavorful soup tastes like it simmered all day but it's ready in 30 minutes so it's perfect for a weeknight meal! Brimming with tasty sausage, creamy white beans, spinach, and tomatoes for a taste of Tuscany!
Ingredients
1 pound bulk Italian sausage
1/2 medium sweet onion, chopped
2 or 3 cloves of garlic, pressed
14.5 ounce can petite diced tomatoes, do not drain
3  15 ounce cans navy beans or Great Northern beans, drained and rinsed
2 to 3 cups fresh spinach, chopped
3 or 4 large cubes Knorr Vegetarian vegetable bouillon
2 Tbsp Better Than Bouillon Roasted Chicken base
12 cups water
1 tsp fresh cracked black pepper or more to taste
5 ounce carton shredded fresh Parmesan for topping (optional but I hope you do!)
Instructions
Brown and break up sausage in a stock pot. Add onion and garlic and cook until onion is soft and translucent. Add water, bouillon cubes, pepper, chicken base, tomatoes, and drained beans. Simmer for 10 or 15 minutes. Add spinach, simmer for about 5 minutes more or until spinach is wilted and tender.
Ladle into bowls and top with 1-2 Tablespoons of shredded Parmesan. Serve with garlic toast.
Nutrition Information:
Yield:
12
Serving Size:
1
Amount Per Serving:
Calories:

395
Total Fat:

16g
Saturated Fat:

6g
Trans Fat:

0g
Unsaturated Fat:

10g
Cholesterol:

37mg
Sodium:

923mg
Carbohydrates:

40g
Fiber:

15g
Sugar:

3g
Protein:

24g
If you enjoyed this recipe today, please share it on your social media accounts like Facebook, Instagram, Twitter and Pinterest. I'd sure be tickled and ever so grateful, thank you! 
If you haven't already, check out my Facebook page where I'll be posting easy, delicious and family-friendly recipes every week!