Russet potatoes are terrifically versatile. And few things top potatoes as comfort food. Raise your hand if you could use some comforting!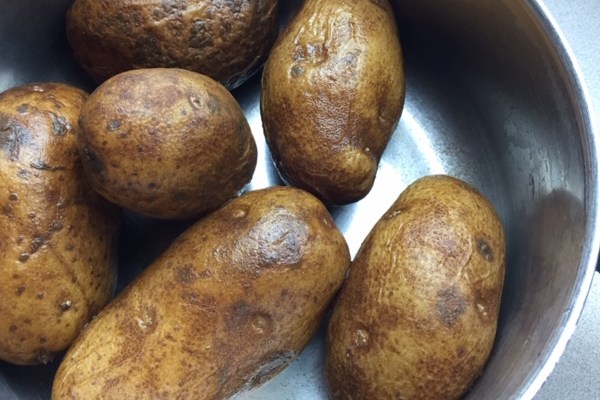 There are so many delicious things to do with the humble spud. But first, I want to be sure you know how to make perfect baked potatoes with delicious crispy skin and a gloriously fluffy, flavorful interior!
It takes a wee bit longer to do it, but it's worth it, believe me. And baked potatoes aren't just a butter sponge to serve on the side. No sir! They can become a meal in themselves and a darn satisfying one at that!
So some evening or some Saturday, turn on your oven and bake up a few and a few extra. It only takes minutes to prep and then let the dry oven heat happily work its magic.
How To Make The Perfect Baked Russet Potato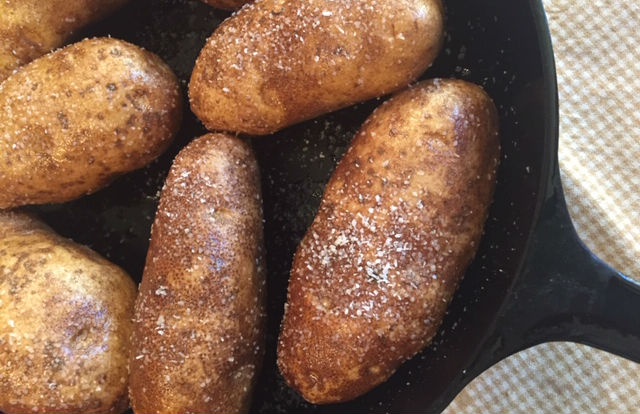 Russet potatoes, especially from Idaho, make fantastic baked potatoes. The warm Idaho days, cool nights, and volcanic soil give them fantastic terroir. And, their low moisture content makes them ideal for baking.
If you're mashing, dicing, or frying potatoes, appearance and size doesn't matter much.
When baking potatoes, however, choose uniformly shaped and evenly-sized ones that have minimal blemishes. Six to eight-ounce taters are a great size for a side dish or as a base for the main dish.
Scrub potatoes with a brush or a nylon scrubber then dry them well with a terry towel. This helps the olive oil stick to the skin. Drizzle the olive oil generously over the potatoes and using your hands, roll and rub as much of the oil on the skins as you can.
When you're done, rub your hands together and remove the excess with a paper towel. Your hands will feel soft and smooth!
Now, put them in a baking pan or a cast-iron skillet, lightly sprinkle some kosher salt over them, and slide them into a 350-degree oven. After about an hour, check.
They should pierce easily with a skewer. The skins will be shiny and crisp and the most flavorful you ever tasted! Give them a bit more time if they're not quite there. Your patience will be rewarded.
If you're serving these alongside meatloaf, steak, or chops, you're there. Add your favorite toppings and enjoy!
Stuffed Baked Potatoes Something Yummy And New For Dinner Tonight
We love stuffed baked russet potatoes! They are easy, thrifty, and satisfying. They're also a great way to use up leftover taco meat, bits of ham, meatloaf, chicken, baked beans, or spaghetti sauce.
Sometimes I add a can of french cut green beans or tiny peas that I've heated and drained. You can add grated cheese or chopped green onions or even shredded lettuce!
At our house, we call it "tip-the-refrigerator night" when we clear out all leftovers. No leftovers? How about a can of chili over the top? Anything goes with baked potatoes. I'd love to hear what you come up with!
Quick And Tasty Russet Potato Skillet Wedges
These are my "go-to" potatoes when I'm pinched for time or low on ideas for sides. Best of all, they're a family favorite. I've seen our kids and grandkids snitch them right out of the skillet!
Wash and dry the potatoes as if you were going to bake them. Don't peel them. Allow three average size potatoes for every two people. Cut them into wedges.
Put a puddle of olive oil and a tablespoon or so of butter into a non-stick skillet that has a tight-fitting lid.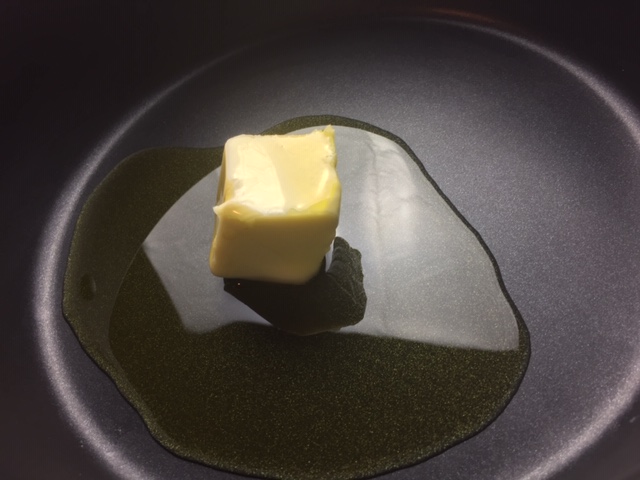 Put the potatoes in the skillet on medium-high heat. Season with garlic powder, pepper, and seasoned salt.
Add onion powder, too, if you like. Or chili powder or rosemary, or dill! Experiment to find your favorite!
Shake the skillet to flip the wedges so both sides start to get a little brown. Next, cover the skillet tightly so the potatoes will cook quicker. Shake the skillet vigorously from time to time so the potatoes cook evenly.
Once the potatoes are tender, uncover the skillet and continue to cook the wedges until they are evenly golden brown. The whole process should only take about 20 minutes!
Serve with ketchup, salsa, sour cream, or eat them plain! Simple and delicious.
How To Make Addictive Steakhouse Style Loaded Baked Potato Soup 
I saved the best for last! Years ago, there was a swanky steakhouse in Overland Park, Kansas. It was really close to the Kansas City Merchandise Mart.
The place was expensive, but we discovered on Thursday nights they featured Loaded Baked Potato Soup made with all their leftover baked potatoes. It was a complete meal we could afford!
Folks flocked there to eat that yummy soup! It was such a treat! Over time, I've come up with a pretty close copycat version. I'm happy to share it with you here!
Next time you bake a batch of potatoes, allow for some "plan-overs" that you can use to make this incredibly delicious soup!
Yield: 6
Loaded Baked Potato Soup
Hearty, creamy, chunky, rich, and savory soup. The flavor duplicates all the goodness of a loaded baked potato, but in a bowl!
Ingredients
4 medium Perfect Baked Potatoes, peeled and cubed. (Planned over) Reserve some skins.
2 cups water
1/4 cup butter
2 Tbsp paste-type chicken base I prefer Better Than Bouillon
2 Tbsp corn starch
2 1/2 cups milk
1 cup dairy sour cream
1 1/2 cups cheddar cheese, grated
6 strip bacon, crisply cooked and crumbled
6 Tbsp green onion, thinly sliced
1 Tbsp parsley for garnish
Instructions
Put the cubed potatoes in a stockpot with 2 cups of water and the chicken base.
Heat mixture through, and mash potatoes slightly but leave some chunks.
Add 2 cups of the milk, butter, and sour cream.
Heat to simmer but don't boil.
Dissolve the corn starch thoroughly in the remaining 1/2 cup of milk, and add it to the soup mixture.
Stir and simmer until the soup thickens to the desired consistency.
Ladle the soup into bowls and top with bacon, cheese, and sliced green onions.
Add parsley for garnish if you like.
Eat, pat belly, and smile.
Nutrition Information:
Yield:
6
Serving Size:
1
Amount Per Serving:
Calories:

490
Total Fat:

31g
Saturated Fat:

17g
Trans Fat:

1g
Unsaturated Fat:

11g
Cholesterol:

93mg
Sodium:

602mg
Carbohydrates:

35g
Fiber:

3g
Sugar:

3g
Protein:

19g
That's all there is to it!! We love the crispy skins so much that I save part of them and chop 'em up to add with all the other goodies! Heaven in a bowl!
My husband has a motto. "I've never met a potato I didn't like." Because of that, I have 25 or more ways to make potatoes. What is your favorite way to fix potatoes?
If you enjoyed these recipes today, please share it on your social media accounts like Facebook, Instagram, Twitter, and Pinterest. I'd sure be tickled and ever so grateful, thank you! 😊
If you haven't already, check out my Facebook page where I'll be posting easy, delicious, and family-friendly recipes every week!