Fresh apple cake is synonymous with fall, isn't it? Many years ago, my husband's Grandma Frieda Haeker passed along her special recipe. I chased her down after a family get-together to get it. I look back with so much fondness to the days when families gathered more often.
Depending on the time of year, the dessert table would feature whatever fruit was in season. When fall rolled around, there was invariably some amazing apple creation on the table. This is one of them!
But, like anyone who loves to cook and bake, I've made a few changes of my own!
Grandma Frieda's recipe called for strong coffee as one ingredient. I decided to try freeze-dried coffee granules instead and love the subtle flavor it gives this simple cake.
The fragrance of cardamom brings back happy childhood memories for me so I used it in my version instead of the more traditional cinnamon and nutmeg.
I fondly remember the cardamom-scented sweets we ate when my Danish cousins gathered back in Iowa. The old Danes washed down all the goodies with gallons of hot coffee so I consider this combination of flavors a very good marriage!
How To Make This Fresh Apple Cake From Scratch
It starts with some nice tart apples. In this recipe, I used Jazz apples but Granny Smith, Braeburns, or your favorite tart apple will work great too!
I peeled the apples and cut into wedges then chopped them in my food processor, pulsing as I went along. You can chop them any way you like, but stop when you get to chunks about the size of a raisin.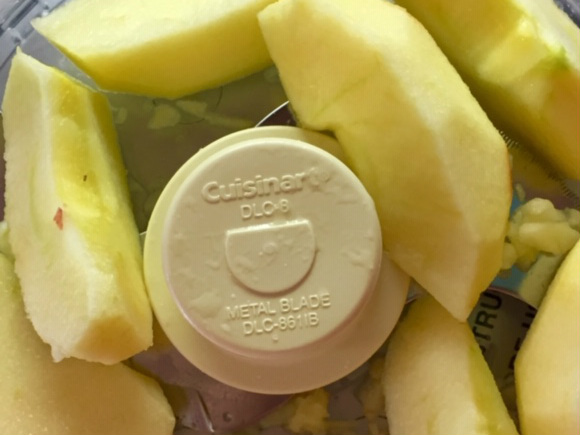 The cake goes together easily. Combine all the dry ingredients in a bowl and mix well. Cream together the sugar and eggs until fluffy, then gradually add the oil and finally the vanilla. Continue beating until thick and smooth.
Next, add the dry ingredients alternately with the chopped apples and mix just until it's all blended well.
Bake at 350 degrees in a greased 9″ x 13″ pan for about 40-45 minutes. The cake will pull back slightly from the sides of the pan and a toothpick or cake tester should come out clean.
Once the cake is completely cool, slather on the easy cream cheese frosting. The bit of tang in the cream cheese plays nicely with the dense, moist cake.
You don't need to get too stylish with the frosting application because we'll add a fun garnish that's one part Fancy Nancy and one part Simple Simon!
Here's A Deceptively Easy Garnish 
To make this pretty garnish, all you need is some bottled caramel ice cream topping and a handful of chopped pecans. Toast them if you like!
Starting in a corner, drizzle the caramel topping diagonally from left to right and back again until you've covered the whole cake. Now, just take a table knife and pull through the caramel lines in the opposite direction.
While everything is still soft and hasn't set, sprinkle about one-half cup of chopped pecans over the top. Ta-Da!! Pretty enough for the Thanksgiving table!
Autumn Apple Cake with Cream Cheese Frosting Recipe
A dense moist cake with subtle notes of coffee and cardamom
Total Time
1
hour
5
minutes
Ingredients
2

eggs

2

cups

sugar

1/2

cup

oil

1

tsp

vanilla

1/2

tsp

salt

1

tsp

baking soda

4

cups

peeled tart apples (about 4 apples)

finely chopped

1/2

tsp

ground cardamom

1

Tbsp

freeze-dried instant coffee granules

2

cups

flour
Frosting
8

ounces

cream cheese

1/2

cup

salted butter

4

cups

powdered sugar

2-3

tsp

vanilla
Instructions
Beat egg and sugar together until fluffy then gradually add oil and vanilla. Continue beating until thick and smooth. I used my food processor to chop the apples. Alternately add apples and dry ingredients. Mix until well blended.

Bake at 350 degrees in a greased 13' x 9" pan for about 45 minutes. Sides will pull back slightly from pan. Let cool completely before frosting.
Frosting Instructions
Beat together the cream cheese, vanilla, and butter until creamy. Add powdered sugar to the bowl and begin beating at lowest speed. Hint: I wrap a clean dishtowel around the bowl and mixer head to keep the sugar from flying all over my counter! Beat until it's smooth, scraping down the sides of the bowl a couple of times.
What's your favorite apple dessert recipe?
If you enjoyed this recipe today, please share it on your social media accounts like Facebook, Instagram, Twitter, and Pinterest. I'd sure be tickled and ever so grateful, thank you! 😊
 If you haven't already, check out my Facebook page where I'll be posting easy, delicious, and family-friendly recipes every week!
Love, GB (Betty Streff)