Luckily, I found gorgeous, thick, meaty pork chops on sale! (Wow! Just $1.99 a pound!) I was on a hurried trip to the grocery store in hopes of finding something to make for a simple but special dinner for the two of us on New Year's Eve.
I perused the store for inspiration. When I saw the pork chops, an idea jumped into my head. We had planned a quiet evening at home. I wanted to serve something festive without a lot of fuss.
If I learned one useful skill in 2020, it was how to use an Instant Pot! Even though I was late to the party, I'm making up for the lost time.
Here's How To Make A Festive Pork Chop Dinner In One Hour
Think simple and work your plan! A complete plate only needs three components, a protein, a starch, and a side. Since the pork chops would be the star of the show, everything else could be simple.
Start with the thing that takes the longest to cook. In this case, it was baked potatoes. Here's how to make them beautiful and perfect. The skins will be shiny and crisp and the most flavorful you ever tasted!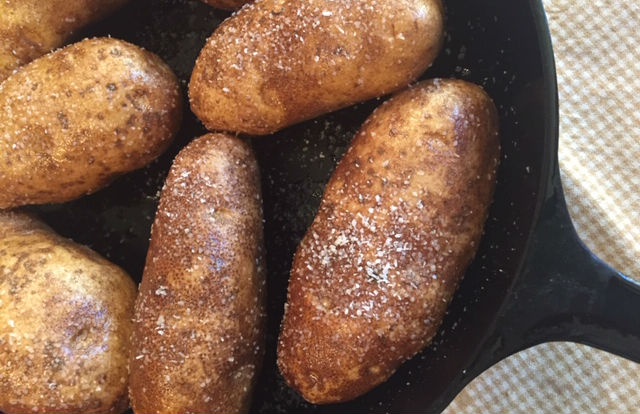 Scrub russet potatoes then dry them well with a terry towel. This helps the olive oil stick to the skin. I bake them in a cast-iron skillet, but you can use a pie plate or baking pan.
Next, drizzle olive oil generously over the potatoes and using your hands, roll and rub as much oil on the skins as you can.
Next, lightly sprinkle some kosher salt over them and slide them into a 350-degree oven. After about an hour, they should pierce easily with a skewer.
Now Fire Up Your Instant Pot For Fast Tender Pork Chops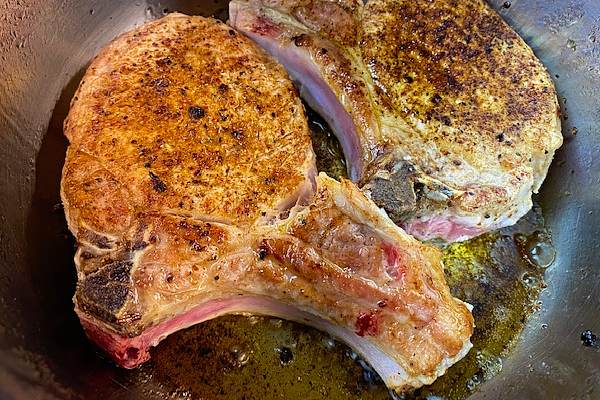 Sorry, I didn't take a lot of pictures as I went along. Once the chops are browned, you simply add the rest of the ingredients. It's super easy to make!
These pork chops were big! They were almost an inch thick and weighed nearly a pound apiece! Meat shrinks considerably when you cook it, sometimes thirty percent or more, but these were still generous servings!
First, I trimmed off all the visible fat. Next, I sprinkled both sides of the pork chops liberally with seasoned pepper and barbeque rub and pressed it into the meat.
Next, with the Instant Pot set on high sauté, I browned them well on both sides in olive oil, one at a time. This is such an important step for a delicious brown sauce.
When they were brown, I nestled them in the instant pot and added the seasonings along with the water. I switched the Instant Pot to high pressure and cooked them for 50 minutes.
Do This While The Pork Chops Cook And The Potatoes Bake
Amazingly, the store had fresh asparagus that day. It was pretty skinny but looked really good! While the rest of the meal was cooking along, I snapped the ends off and placed the stalks in a glass dish.
I added a couple of tablespoons of water and sprinkled it lavishly with lemon pepper, then covered it with plastic film and set it aside.
Next, I set the table. On a special evening when we said, "Goodbye 2020 and never come back!", I wanted it to look pretty, even for just the two of us.
It looked like this but with just two place settings and plain red napkins!! I hope your imagination is working well!
I put on a clean shirt and some lipstick while all that was happening in the kitchen, then donned an apron while I finished things up.
The pork chops were done. I set them aside on a plate while I thickened the sauce and added the cherry pie filling.
While that was going on, the asparagus went in the microwave for about three minutes. Asparagus is done when a toothpick can pierce it, but it's still a bit crisp.
Last, I plated the pork chops and ladled the sauce over them. (We only used about half the sauce.) I split the potatoes and placed some asparagus on each plate. Olive oil drizzled over the asparagus and a sprinkle of kosher salt added a tasty touch and a lovely sheen.
A small loaf of bakery bread and a nice glass of wine were all we needed for a perfect New Year's Eve dinner.
It was a beautiful plate and so delicious. But do you know the best part of a candlelit dinner? The anti-aging effect is amazing!
Yield: 2 servings
Instant Pot Pork Chops With Cherries and Bourbon Sauce
Tender, delicious thick-cut pork chops with a delicious cherry-bourbon sauce, ready in about an hour!
Ingredients
2 16-ounce thick cut pork chops with visible fat removed
2 tsp seasoned pepper like Lawry's
2 tsp barbecue seasoning like McCormick Grill Mates
3 Tbsp olive oil
2 cloves of garlic, pressed
3 tbsp brown sugar
1/2 tsp ground ginger
2 Tbsp soy sauce
1 heaping Tbsp paste-type chicken bouillon like Better Than Bouillon
1/3 cup bourbon
1 cup water
1/2 can cherry pie filling
2 Tbsp corn starch dissolved in 1/2 cup cold water
Instructions
Sprinkle barbecue seasoning and seasoned pepper on both sides of the pork chops and press it into the meat.
Set Instant Pot to saute and brown both the chops in 3 Tbsp olive oil one at a time until nicely browned on both sides.
Put both chops in the Instant Pot and reset it to pressure cook on high for 50 minutes.
Add garlic, brown sugar, soy sauce, ginger, bouillon, bourbon, and water. Cook, then quick release and set pork chops aside and keep them warm.
Reset the Instant Pot to high saute.
Shake together the corn starch and water. Add it gradually to the liquid in the Instant Pot. Stir and cook until it is thickened.
Add the cherry pie filling to the sauce and stir to combine.
Put the pork chops on plates and ladle sauce over each chop.
Next time, we decided we'd split one pork chop or use smaller chops, or even boneless pork tenderloin. These chops were huge!
The sauce turned out super delicious! There was quite a bit of it leftover so, I'm going to try it over a chicken breast or ham. I'll let you know!
Making The Best Of Things Until Things Change
Maybe I'm silly but I love setting a pretty table and making our dinner plate look nice even when it's just Papa and me sitting down to a meal. Does anyone out there feel the same way? I would love to hear from you!
Blessings for a HappIER New Year and an end to the pandemic. Our creator wired us to connect with others! I look forward to the day when we can gather again comfortably and without fear! Until then, love the ones you're with!
If you enjoyed this recipe today, please share it on your social media accounts like Facebook, Instagram, Twitter, and Pinterest. I'd sure be tickled and ever so grateful, thank you!
Love, GB (Betty Streff)