Barbecue beans and cookouts. They're just a natural fit. Whether you're grilling steaks or hotdogs, baked beans pair well.
This semi-homemade barbecue bean recipe begins with my favorite classic pork and beans from Van Camps. These awesome beans have definitely stood the test of time.
The Van Camps brand has been on America's grocery shelves since the Civil War began. They first offered their version of canned pork and beans in tomato sauce in 1894.
Our grandson loves barbecue baked beans. Recently, he and his girlfriend came over for dinner so I decided to cowboy-up his old favorite a bit.
Bacon Just Makes Everything Taste Amazing Every Time
So of course, I started with some bacon. I always cook bacon in the oven because it's quick and much less messy. The secret is parchment paper on a rimmed sheet pan. Here's exactly how you do it.
Once the bacon was nice and crisp, I moved it onto paper towels to drain off any excess fat. However, I poured every bit of the drippings from the sheet pan into my old 9" iron skillet.
I love cooking in cast iron because it can go straight from the stovetop to the oven. And, I'd planned to serve the beans right out of the skillet.
Next, I sauteed some onion in the bacon drippings until they were soft and transparent. Then, I cooked them a little longer until they began to brown a bit and released all the sweetness from the onion.
Feel free to chop the onions instead if you want to hide them in the beans. Kids, you know. Sneak them in there if you have to! The caramelized onions are just too good to leave out.
Next, I simply drained off part of the sauce from two cans of pork and beans and added the rest of the ingredients. I let it simmer for a little while. Finally, I crumbled half the bacon into the bean mixture.
Then, I cut the remaining pieces of bacon in half and arranged them in a spoke pattern on top of the beans. It might not have added anything to the taste but it made my eyes happy!
The bacon on top created a sort of wagon wheel look that went well with my happy cowboy-themed supper plan. I'd set the table with a checkered tablecloth and bandana napkins. (By the way, the girlfriend is from Texas!)
Happy Trails At The Ranch A Great Steak And Barbecue Baked Beans
What else did we have for dinner that evening? Every grandmother would do the same, I made his favorites! And everything tasted great together. We had grilled steak and buttery mashed potatoes (made from scratch, of course!)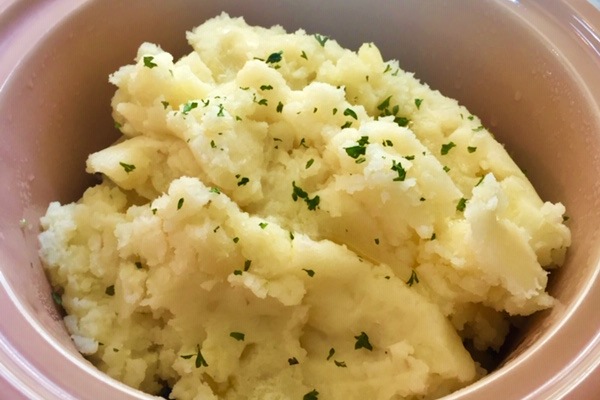 Boy oh boy, did those beans ever taste good with the potatoes!
Our supper at the ranch also included my simple coleslaw recipe and something new. Pork and beans muffins! Watch for the recipes!
Ingredients
2 cans pork and beans in tomato sauce, drained slightly
6 strips thick sliced bacon, reserve drippings
1 small to medium size sweet onion, sliced or chopped
1/4 cup ketchup
3 Tbsp prepared yellow mustard
1/4 cup brown sugar
1/2 tsp liquid smoke
1/2 tsp barbecue seasoning
Instructions
Place parchment paper on a rimmed baking pan. Lay six slices of bacon on the sheet pan, not touching. Bake at 425 degrees about 15 minutes or until desired crispness. remove bacon to paper towels to drain. Reserve all drippings and pour them into a cast-iron or other ovenproof skillet.
Slice or chop one sweet onion and saute in drippings until transparent and soft. Continue cooking until onion begins to brown slightly.
Put beans, ketchup, mustard, brown sugar, barbecue seasoning, and liquid smoke in the skillet with onions and simmer for 5 minutes then crumble three slices of bacon into the bean mixture. Cut three remaining pieces of bacon in half and arrange in a spoke pattern on beans.
Bake about 30 minutes in 350-degree oven.
Nutrition Information:
Yield:
6
Serving Size:
1
Amount Per Serving:
Calories:

205
Total Fat:

6g
Saturated Fat:

2g
Trans Fat:

0g
Unsaturated Fat:

3g
Cholesterol:

17mg
Sodium:

791mg
Carbohydrates:

32g
Fiber:

6g
Sugar:

12g
Protein:

9g
Do you ever plan a dinner around a theme? I'd love to hear about it if you do. I guess it's the old caterer coming out in me.
If you enjoyed this recipe today, please share it on your social media accounts like Facebook, Instagram, Twitter and Pinterest. I'd sure be tickled and ever so grateful, thank you!
If you haven't already, check out my Facebook page where I'll be posting easy, delicious and family-friendly recipes every week!
Love, GB (Betty Streff)