Hot German Potato Salad. It's so good! I really should make it more often. My German-to-the-core husband has a motto, "I've never met a potato I didn't like." And, this is one he really likes!
This salad/side dish is simply delicious, full of crispy bacon and sweet caramelized onion. It swims in a thick, tangy, sweet and sour vinegar dressing. This dish goes great with almost any kind of meat from meatloaf to sausage.
And now, you can make it quickly and easily in the Instant Pot without muss or fuss! I was a late adopter to Instant Pot cooking. I'm so glad to finally be on the bandwagon! Better late than never, right? It's a game-changer!
It All Began With Beautiful New Potatoes
My favorite produce guy had perfect little golf ball size baby red potatoes with thin skins. I'd never made German potato salad with new potatoes and I thought it would be something fun to try.
First, I set the Instant Pot on the saute setting and cooked the bacon until it was crispy golden brown. Then, I took it out with a slotted spoon and set it aside on a paper towel.
Next, I chopped up some sweet onion and put it in the Instant Pot to saute in the bacon drippings. I happened to have one half of a yellow sweet onion and one half of a red onion so I used up both! Either kind of onion would work just fine!
What a wonderful aroma of the onions in the bacon drippings! I sauteed the onions until they were tender and transparent. Then, I switched the setting from saute to pressure cook and added the little potatoes. I left the skins on them and cut a few in half so the sizes would be more uniform.
Now Make The Tangy Dressing Right In The Pot
The classic sweet and sour dressing is a simple combination of sugar, vinegar, and water plus a little salt and pepper. I added those ingredients, locked the lid in place, set it to high pressure, and cooked it all for 6 minutes.
A delicious broth was formed when the potatoes were cooked. I mixed up some corn starch in a little cold water and turned the pot back to saute so I could bring it to a boil. I wanted a nice thick dressing and it only took a couple of minutes!
I stirred everything gently with a wooden spoon and cooked it until the dressing thickened. Finally, I spooned it into a serving bowl and topped it off with the delicious crisp bacon and some parsley for color!
I've noticed some recipes that call for beef broth or chicken broth instead of water. I have never tried that but might the next time I make it! I think it would depend a little on what you plan to serve with it.
Feel free to use regular red or white potatoes instead of baby potatoes. Peel and slice them if you like, or leave the skins on, it's up to you! In this recipe, it's all about the bacon, the onions, and the dressing! The spuds are in a supporting role!
Oh, yes, I almost forgot. Some old German recipes include a half teaspoon or so of celery seed and others include a little mustard. Either one of them might add a lot of intriguing flavor that you would enjoy.
What To Serve With Hot German Potato Salad
It's fall and Oktoberfest celebrations will be happening soon. If you want a festive, classic German menu, try serving a pork loin roast or brats with these potatoes and add these two tasty side dishes!!
This German sauerkraut and bacon casserole recipe came directly from a Germanfest my husband and I attended. Wunderbar!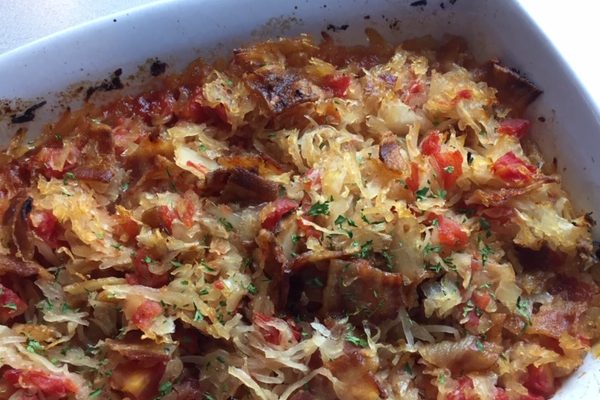 And from Great Aunt Dora, German style fried apples.
German food is popular all over the world because it is hearty, tasty and satisfying! Try all these recipes. You will not be disappointed!
Ingredients
3 pounds of potatoes
1/2 pound bacon
1 medium sweet onion
1/4 cup apple cider vinegar
1/2 cup water
2 tsp salt
3 Tbsp sugar
1 tsp coarse ground pepper
1 Tbsp parsley for garnish (optional)
1/2 tsp celery seed (optional)
2 T corn starch dissolved in 1/2 cup cold water
Instructions
Set Instant Pot to saute.
Cut bacon into 1" pieces and brown in Instant Pot. Don't crowd. Saute until crisp and lightly brown.
Remove bacon with a slotted spoon, lay on a paper towel to drain, and set aside. Leave bacon drippings in the pot.
Chop onion and saute in drippings until fragrant and transparent.
Cancel saute setting.
Put potatoes in the pot with 1/4 cup vinegar, 1/2 cup water, salt, pepper, sugar, (and celery seed if desired.)
Lock cover on the pot and close steam vent.
Set Instant Pot to pressure cook on high pressure. Set timer for 6 minutes. Cook.
Quick-release pressure.
Switch Instant Pot to saute setting.
Add cornstarch and water mixture to both and stir gently while it thickens the dressing.
Put potato salad in a serving bowl and top with crisp bacon pieces.
Add parsley if desired for garnish.
Serve warm.
Do you have a German dish you love to eat? Is it a family recipe? I'd be so happy if you'd share it with me so I can keep my hubby well-fed and happy!!
If you enjoyed this recipe today, please share it on your social media accounts like Facebook, Instagram, Twitter and Pinterest. I'd sure be tickled and ever so grateful, thank you!
Love, GB (Betty Streff)
Sharing is caring!