Crisp and buttery garlic croutons are easy to make at home!
It's also a great way to use up those odds and ends of bread you don't know what else to do with. And, I'll be sharing a few more ideas for leftover bread with you later because it goes against my grain to waste food!!!
What do you do with those last few slices that aren't sandwich fresh? I stick mine in freezer bags and stash them in the deep freeze until there's enough accumulated I decide I have to do something with it!!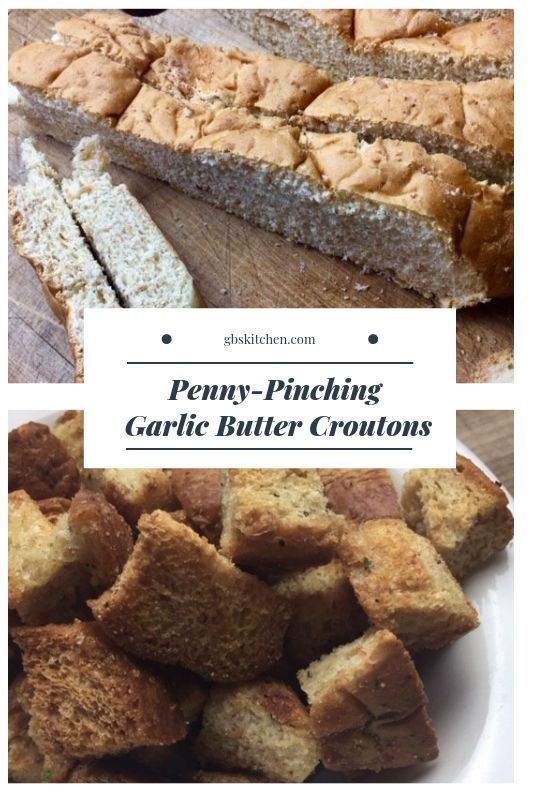 Aside from feeling thrifty and virtuous when I make croutons, I really like knowing what's in them! Look at a bag of croutons in the grocery store sometime! You'll be surprised at the unpronounceable ingredients! None here!!
Using a serrated bread knife, cut bread into cubes about an inch square.
Drizzle the olive oil and butter on a heavy rimmed sheet pan. I am absolutely in love with the new one Wilton pan I bought at Target last week!!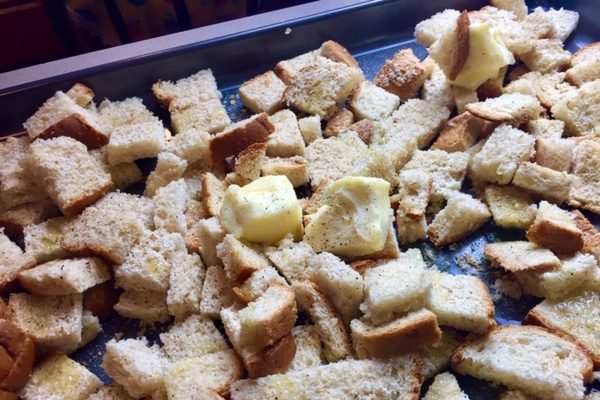 Add seasonings and start tossing the bread cubes to distribute. I'm gonna pause here and suggest a dash of creativity!! Grab a packet of dry salad dressing mix like Italian or Greek and use that instead for a change-up. Give your croutons a whole new flavor profile!
Put the whole shebang in a 350 degree oven and bake about 20 minutes until they are crisp and lightly browned. Watch them closely, stirring a few times to get the butter, olive oil and seasonings all absorbed evenly.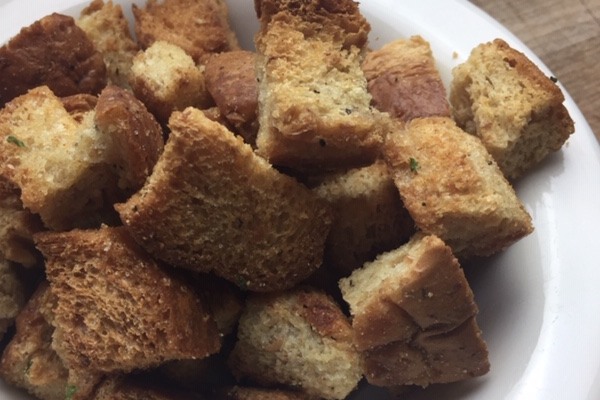 Let them cool completely and store tightly sealed in a zip lock type bag! Great on soup too! And bet the kiddos will be in the bag just snackin'! Happens at our house for sure!!
Penny-Pinching Garlic Butter Croutons
A great way to use up stale bread. Restaurant quality, easy to make at home.
Ingredients
5-6

cups

bread, at least day old or more

2-3

Tbsp

olive oil

1/2

cup

butter, cut in pats

2

tsp

garlic powder

2

tsp

seasoned salt or all purpose seasoning

2

tsp

dried parsley
Instructions
Drizzle olive oil on a heavy rimmed sheet pan. Add butter pats. Add bread cubes. Sprinkle with seasoning, toss to distribute butter, oil, and seasonings.

Bake in 350 degree oven about 20 minutes or until bread is nicely crisp and toasted. Open oven and stir bread cubes a few times while baking to distribute ingredients and make sure croutons are evenly browned.

Store in a tightly sealed zip lock bag.
If you enjoyed this recipe today, please share it on your social media accounts like Facebook, Instagram, Twitter and Pinterest. I'd sure be tickled and ever so grateful, thank you!
If you haven't already, check out my Facebook page where I'll be posting easy, delicious and family-friendly recipes every week!