Every family develops their own traditions. Especially when Christmas rolls around, there is great "comfort and joy" when every one big and small gathers around the table to eat the nearly sacred familiar foods associated with the holiday.  When our girls, their husbands and our six grandkids roll in on Christmas morning, frittata is a hallowed part of the ritual and it has been since they were littles. This all began when I was working crazy hours in our retail store, Betty Jane's. I simply needed to do as much as possible ahead of time. Frittata, besides being so much fun to say, is very adaptable to being made a day or two ahead. And it's exceptionally user friendly because if you want to add asparagus, spinach and ham, go for it! Bacon? You bet. Sausage? Yes!
At our house, frittata is served with a small mountain of crisp bacon and multiple pans of homemade cinnamon rolls! The six little grandkids now range in age from almost 10 to one who just turned twenty with four teenagers in between! No one in our tribe has a dainty appetite and my goodness how those kids can eat! Later, I'll show you how I have streamlined the cinnamon roll process and just how simple bacon can be when you make it in the oven. That's a nifty trick I learned in my nearly four years spent in a high volume food service business.
It does seem like just yesterday those big kids were the littles, Mitch, Baylie, Nick, Julia, Breck and Briggs. Back on the farm they drank their cocoa around the kitchen table from these plasic dollar store mugs. I still have all six although they show the wear of ten years. I treasure them to this day and I use one every morning when I drink my Spark! Next post I'll share photos of our grandkids when they were little and the big kids they are today!! (along with bacon and cinnamon roll hints as promised!)
There's a good reason the GB's Kitchen logo is plopped right in the middle of a black iron skillet!  I use them for eeeeevrything!! I have three different sizes and they're all at least as old or older than I am and each one is seasoned so perfectly they're nearly non-stick! So here's how I start my frittatta with the diced red potatoes and thinly sliced leeks sauteeing in olive oil. Which pan it ends up in for oven baking depends on how big a batch I make! Someday when there are husbands, wives and great grandkids we may use a whole sack of potatoes!! Won't that be fun?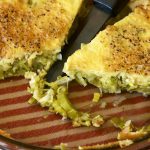 POTATO AND LEEK FRITTATA
A sort of Italian omelet that we eat every Christmas morning with our hungry bunch. Tasty main dish that can be served hot or at room temperature. Also a great way to use up bits of ham, turkey and vegetables. Let your creativity guide you!
Ingredients
2

T.

olive oil

8

large eggs

2

Tbs

water

2

Tbs

fresh grated Parmesan

2

tsp

coarse salt

¼

tsp

fresh ground pepper

2

Tbs

olive oil

¾ to 1

pound

small red potatoes

diced small

4

large leeks

washed thoroughly and sliced ¼ '" thin. (Use just the white part)

1

tsp

thyme

(optional)

1

tsp

rosemary

Or to taste, crushed fine if using dried

1 ½

tsp

coarse salt

¼

tsp

fresh ground pepper

1

cup

fresh grated Parmesan

or more! For topping

1

Tbp

parsley

for garnish
Instructions
Beat eggs with olive oil, water. salt and pepper and 2 T of parmesan. Set aside. I do this in my blender. Saute potatoes and leeks in olive oil with salt and pepper until leeks are soft and potatoes lightly browned. Put into greased baking dish or deep dish pie plate. Pour egg mixture over all, top with parmesan and bake about 25 minutes at 325 degrees. Let stand about 10 minutes before cutting into individual servings.
Recipe Notes
Can also be made ahead and refrigerated overnight and then baked. Optional: Add ham, crisp crumbled bacon, extra cheese and any veggies such as asparagus, peas or artichokes if you like.
So there you have it! A little peek at our some of our Christmas traditions. I'd absolutely love to know more about you!! Please tell me your favorites! And, If you enjoyed this recipe today, please share it on your social media accounts like Facebook, Instagram, Twitter and Pinterest. I'd sure be tickled and ever so grateful, thank you! 😊 If you haven't already, check out my Facebook page where I'll be posting easy, delicious and family-friendly recipes every week!