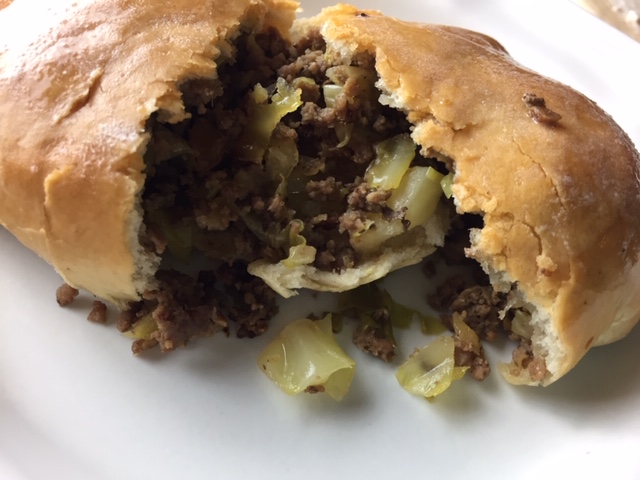 Runzas. Believe me, you're gonna love 'em. Even if you don't think you like cabbage.
So what the heck is a runza anyway? Well, it's a classic buttery-beef, savory cabbage-and-onion-filled sandwich. Beloved. In Nebraska there's even a fast food chain that bears the name. Runzas were born here. In fact there are 78 Runza retaurants and of them, only 4 are located outside the state. The very name RUNZA is trademarked but church cookbooks all over the state have recipes for a homemade version. And the Everett family who founded the restaurant doesn't get too steamed about it.
In 2016 alone, the chain sold some 2 million of them. So many fanatics hankered for the savory delight that now it's possible to get them shipped, frozen, right to your door! At every University of Nebraska Husker home football game, about 10,000 of the cherished sandwiches are sold. That means about one in every nine people there will choose a Runza in spite of hundreds of choices of what to eat.
At last, for all the Runza-less people in the rest of America, here's how you can make some at home.
I hope I've made you curious! And you can make a pretty darn good Runza at home, in fact a whole batch of them and here's how.
Dough Re Mi. It starts with the dough.
In your large stand mixer, make the dough. Option B: you can do this by hand and knead the dough. Feel virtuous, build up your arm strength. Option C: Use frozen bread dough, thawed out. Easy, semi-homemade, and you still get all the amazing smells while they're cooking and baking.
Best hint I have for making bread dough in a stand mixer: Drape the mixer head and bowl with a clean dishtowel when you add flour. Saves a lot of mess. I mention that again in the recipe. Second best hint: I keep a large clean paintbrush to sweep runaway flour off the mixer and counter into the trash or sink before I start the soap and water cleanup. Less pasty mess, less time. I admit it, I'm a little lazy.
While that rises, make the filling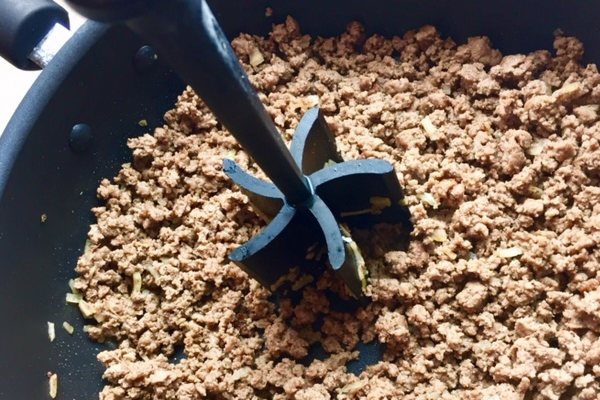 Brown the ground beef in a large skillet until it starts to lose it's pinkness.
Chop a medium head of cabbage and a medium onion. You should end up with about 6 cups of cabbage but it doesn't have to be exact.
Add the cabbage, onions, butter and seasonings to the beef and continue to cook until beef is a little browned and cabbage and onions are soft and wilty. Set aside to cool.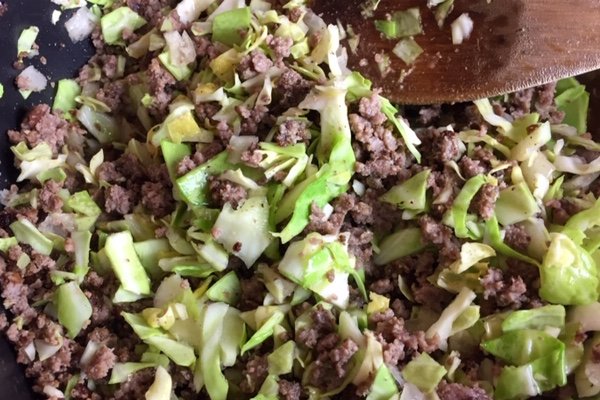 Time to make the runzas
Divide the dough into 16 portions. Roll each dough ball into a slipper-shaped oval. Put about 1/2 to 1/3 cup of meat mixture on the dough and fold up, sealing edges well. I keep a cup of warm warm nearby while I'm doing this. I've found the dough seals better if I dip my finger in the water and run it along the edge of the dough. Don't aim for perfection unless you are hosting foreign dignitaries. Think handmade, rustic. Channel your inner Pioneer Woman.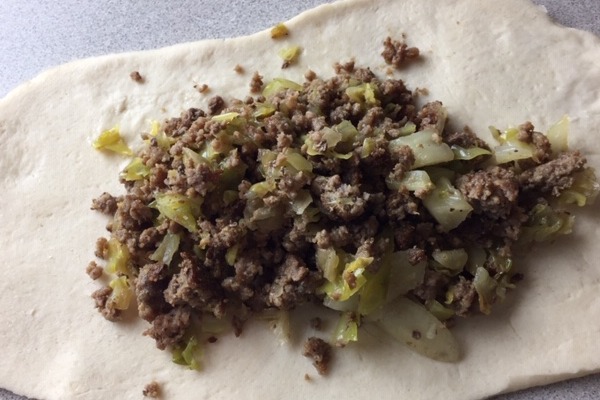 Put them to rest on their tummy, seam side down, on a cookie sheet.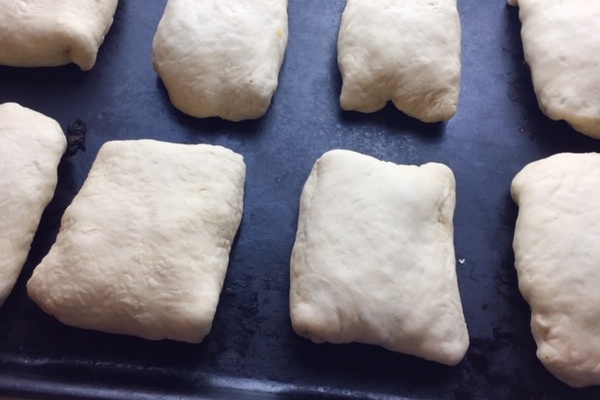 Let them rise about 20-30 minutes. Then bake at 375 degrees for about 20 minutes or until nicely browned. Now brush tops with melted butter.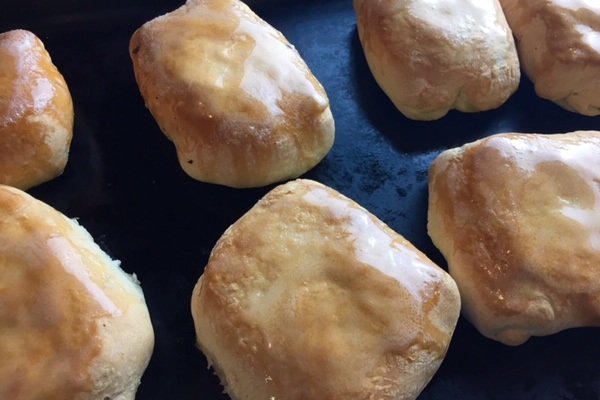 Ta da! Runzas!
Once you have tackled your first batch of runzas, you'll start thinking of ideas to make them your own. Add cheese on top of the filling before baking. Check. Add mushrooms, yep. Use Italian seasoning in the filling and dip in marinara sauce. Bellissimo! Get it? Another chance to color outside the lines and do your thing.
My husband eats his with mustard, tearing each runza into little bites and smearing the yellow goodness on each mouthful. What to serve with a Runza? French fries or potato chips are standard but fried apples would be great. Vegetable soup, tomato soup or broccoli cheese soup would also pair well! And while you have the oven on, whip up some of these crazy easy cookies. Now go polish your halo, you amazing kitchen conqueror!
Find some time on a snowy weekend and make up a batch. These freeze and reheat well, see recipe for details!
Easy Homemade Runza Recipe
Classic Russian-German beef and cabbage filled sandwiches baked in yeast dough. More like a hand pie than a sandwich I think.
Ingredients
Dough, the Runza Wrapper
2

cups

very warm water

about 110 degrees, a little warmer than a hot tub

5

tsp

yeast

or two packets

2

Tbsp

butter

softened

2

tsp

salt

1/4

cup

sugar

6

cups

flour

approximately

2-3

Tbsp

butter

melted, to brush on finished runza
Runza Filling
6

cups

chopped cabbage

about one medium head

2

pounds

ground beef

1

medium

onion

chopped

2

Tbsp

olive oil

2

Tbsp

butter

1

tsp

garlic powder

or more if you like

2

tsp

favorite seasoned salt

2

tsp

pepper
Instructions
This is by far easier when you use a large stand mixer with a dough hook. Put warm water, yeast, sugar, salt and butter in bowl and add a cup of flour. Using whip beater attachment, mix thoroughly, scraping down sides of bowl.

HInt: grab a clean dish towel and wrap it around the bowl, see photo. That is unless you really enjoy cleaning up flour. (I don't.) Add 2 cups of flour, one at a time, and beat well.

You'll still want to keep your mixer modestly draped for the next step. Switch to dough hook and keep adding flour gradually until the dough hook starts pulling the dough away from the sides of the bowl. Stop the mixer and feel the dough. If it's still sticky, add a tablespoon or so of flour at a time and resume kneading with the dough hook. Stop adding flour when it's soft but handles without sticking to your fingers.

Great bread dough should feel satiny and elastic.

At this point I simply remove the dough hook and gather the dough into a ball. I spray the bowl generously with Pam or similar, return the dough to the bowl (not necessary to wash it first) smooth a little cooking oil or olive oil over the dough, cover with dish towel and set in a nice warm place. (In the summer, I've found my car makes a great proofing box!!)

When the dough has doubled in size, divide into 16 pieces and roll out into a thin oval about 6″ by 8″. Heavens, this is no time for exactitude. Think rustic and handmade. I like my runzas a little on the small side with thin, crisp dough wrappers. You may like yours chubby.

(Sometimes I make 8 runzas with half the dough and cinnamon rolls with the other half.)
Making the Filling
Brown the ground beef and when it's losing it's pink and starting to brown, add the butter, olive oil, onion and cabbage and cook until the cabbage wilts. Add salt, pepper and garlic. At this point you can set it aside to cool until the bread is ready and rolled out.

Put about 1/2- 2/3 cup of filling on each dough oval and fold over, sealing edges of bread. You may water to wet the dough with your finger dipped in warm water to make it seal better.

Lay runzas seam side down on baking sheet with a little space between to allow for the bread to rise. Let them rise about 20-30 minutes the bake in 375 degree oven for about 20 minutes until nicley browned. Brush with melted butter when they come out of the oven to give them a soft, beautiful color and tasty crust.

These keep well in the fridge for a few days. Or, wrap individually in foil and freeze. They really freeze well so make a bunch when you do.

REHEAT: Heat frozen wrapped runzas in 400* oven for 20-25 min. Remove foil last 5 min.

If you enjoyed this recipe today, please share it on your social media accounts like Facebook, Instagram, Twitter and Pinterest. I'd sure be tickled and ever so grateful, thank you!
If you haven't already, check out my Facebook page where I'll be posting easy, delicious and family-friendly recipes every week!