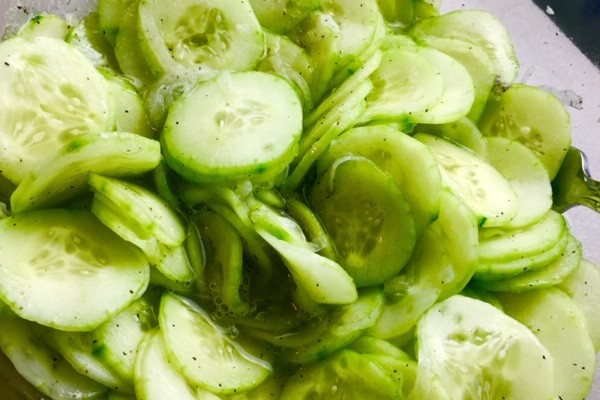 It starts with firm, fresh cucumbers. My absolute favorite are English (sometimes called "burpless") cucumbers, but any good "cuke" will work!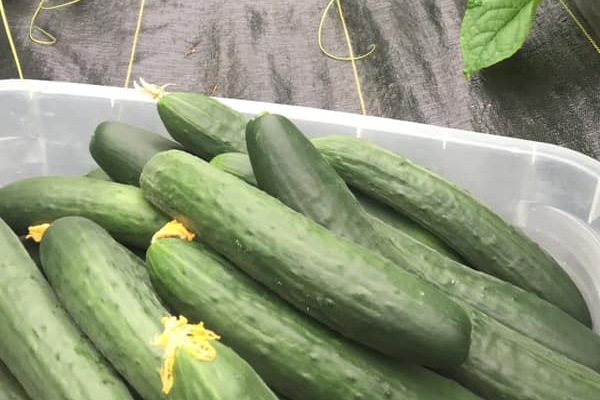 Thank goodness for Andrew's Garden! My produce go-to guy for over 15 years.
When I want to make a batch of salt and vinegar cucumbers, Andy's the guy. He's raised fresh produce since he was a teenager. It all started with a school project in his home town of Funk, Nebraska. (Not kidding.) Today, Andy Erickson and his wife Megan have a full fledged store right here in my town that's open May to December. It's even become a tourist destination! Love it!!
Thanks to massive greenhouses on their farm, I can buy cucumbers, peppers, asparagus, broccoli, tomatoes, splendid greens, cauliflower and (best of all!) fresh green beans in May!! I mean just-picked fresh! Vegetable heaven fresh. Make my granddaughters giddy good.
See the picture showing cucumbers with blossoms still attached? That's how perfect the cucumbers are right now. And that's why I'm an addict and and two-or-three-day-a-week customer! A vegaholic! I hope you have an Andy near you!!
Back to the cucumbers! First, cut of the ends and peel them!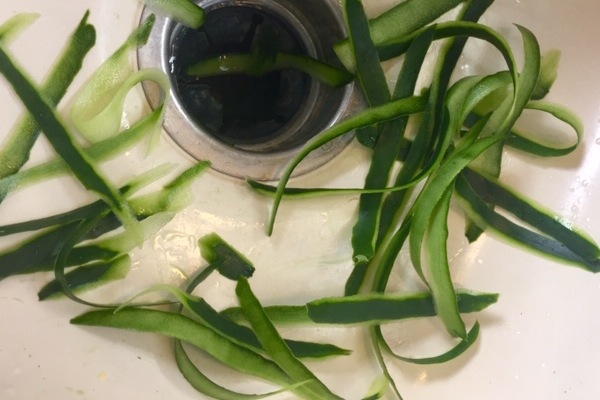 Then slice 'em thin.
When I make a big batch, I use my food processor. If just for Papa and me, I grab my good old piggy cutting board and my chef's knife.
Next, add some sweet onion, sliced paper thin, almost see-through!
Add salt and pepper. Stir it up, let it sit awhile while the salt draws out the juices.
Layer the cucumber-onion-cucumber-onion in a glass bowl, salting as you go. Glass is best because of the acidic vinegar you'll be adding. The cucumber slices will shrink but stay crisp and crunchy.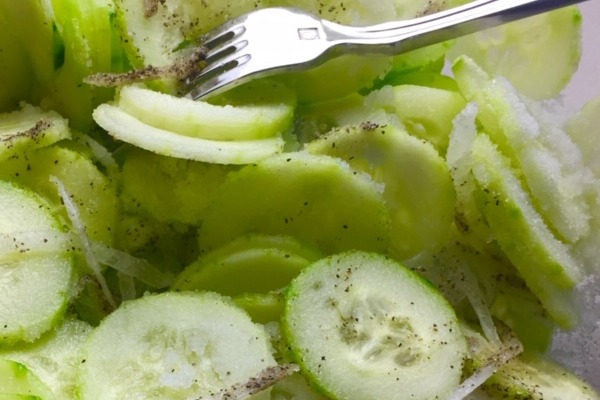 Next, add sugar, vinegar, pepper, then stir and refrigerate, that's it!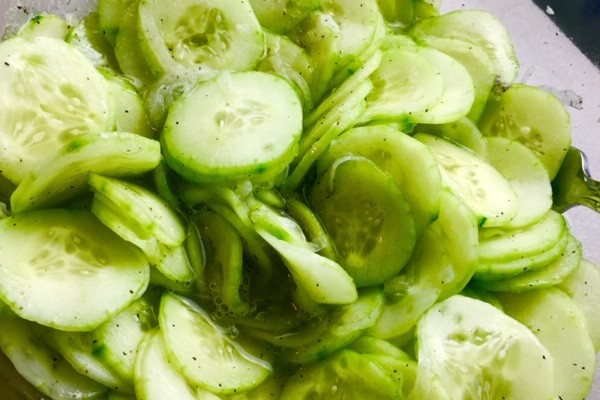 You can easily add more sugar, salt or vinegar until it tastes just right to you once you're ready to serve them. They keep a week or more in the fridge and you can add more sliced cucumbers to the briny liquid if you end up with a cucumber-less bowl.
Salt and Vinegar Cucumbers
crunchy, flavorful, low calorie side dish
Total Time
2
hours
10
minutes
Ingredients
3

large

cucumbers, peeled and sliced thin

1

medium

sweet onion, sliced paper thin

2

Tbsp

salt, or to taste, can use Kosher salt

1-2

tsp

black pepper, or to taste

2-3

Tbsp

sugar, or to taste

2-3

Tbsp

white vinegar, or to taste
Instructions
Peel and slice cucumbers thin. Peel and slice onion paper thin. Layer cucumber and onions in glass bowl, salting each layer as you go.

Let cucumber-onion-salt mixture sit while salt draws the moisture out of the cucumbers. Do not drain. Add sugar, pepper and vinegar and stir well. Cover and refrigerate 2 hours or more.

If needed, add more salt, vinegar or sugar until you are happy with the way it tastes.

Cover and refrigerate leftovers. Can add more cucumbers to the brine. Keeps a week or more in the fridge.
These girls? They eat them by the bowlful and call them "cukies."
We're raising them to love their veggies! GB's cukies just scream summer! And, this version has no oil and only about 25 carbs in an entire batch. The crunchy texture and pop of flavor makes it a great low calorie side dish.
How about you? What are some of your summertime favorites?
If you enjoyed this recipe today, please share it on your social media accounts like Facebook, Instagram, Twitter and Pinterest. I'd sure be tickled and ever so grateful, thank you!
If you haven't already, check out my Facebook page where I'll be posting easy, delicious and family-friendly recipes every week!