Spuds. The humble potato. Actually not so humble. It's the fifth most important crop gown in the world. It's a nutritional powerhouse. Full of minerals, a good source of vitamin C and loaded with beneficial fiber especially when the skin is eaten. You can Google the amazing health benefits all day.
Spuds. Simple And Satisfying
I'm here to sell you on spuds as a cheap, filling, and delicious part of your diet! These days we're growing concerned about feeding our family on a budget with the looming possibility of shortages and skyrocketing prices.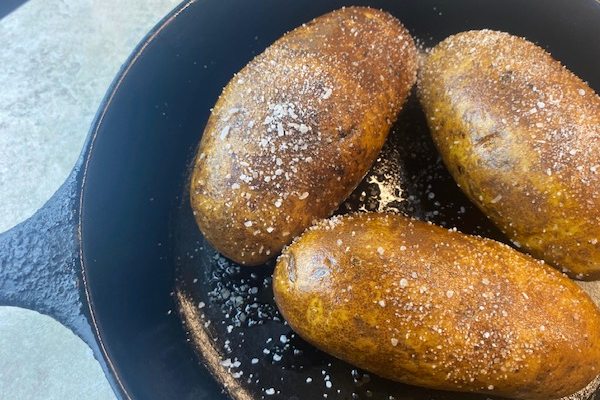 Start right here. The Russet potato. Ideal for baking. Please don't wrap them in foil. When you do, they're not baked, they're steamed. Want to actually love eating the skin? Here's how. Give them a good rub with olive oil. If you've got a cast iron skillet, use it. Sprinkle kosher salt on them and bake them in the oven for an hour or so at about 350 degrees.
Use a cake tester or tip of a knife to test. They are ready when they are easily pierced. Potatoes are very forgiving when baked this way and you can leave them in longer if you need to.
Spuds From The Oven, Spud-tacular Results
A deliciously crispy skin and a fabulously fluffy interior. You could stop right there and serve them as a side but hold on. In just a few minutes you can whip up a tasty mixture to stuff them with and make it a complete meal!
In The Same Skillet…
I added a bit of chopped onion to the olive oil left in the skillet along with a can of drained french cut green beans and about a cup of packaged diced ham. When it was all nice and warm, I simply dumped it on top of the split open potatoes I had plated up.
Then, I topped it with some shredded cheddar and for me, a dollop of sour cream. Such a cozy supper! You can use leftover chicken, taco filling or even chili and do the same thing.
I wrote about it in depth at Spectacular Spuds awhile back. And if you hop over there you'll find a fantastic bonus recipe for loaded baked potato soup. Inspired by a Kansas City restaurant, it's divine.
Spuds, Comfort Food At It's Best
Here's a caterer's trick. Use filling and less expensive ingredients like potatoes, pasta, or rice as a "stage" or platform for costlier ingredients like meat. The current market conditions call for some old fashioned ingenuity and we'll all have to change up some of our habits a bit. But who knows? We may be delighted to find ways to economize and along the way, discover new favorites we'll hang onto for life!
Have you ever wondered how potatoes got the nickname "spuds?" What's your favorite way to fix potatoes? Happy spudding, everyone! See you soon!!
If you enjoyed this recipe today, please share it on your social media accounts like Facebook, Instagram, Twitter and Pinterest. I'd sure be tickled and ever so grateful, thank you!
If you haven't already, check out my Facebook page where I'll be posting easy, delicious and family-friendly recipes every week!
Love, GB (Betty Streff)