Lemon cake is a perfect dessert for summer (and fall, and winter, and spring.) I have baked more lemon cakes than every other kind of cake combined because everyone loves it.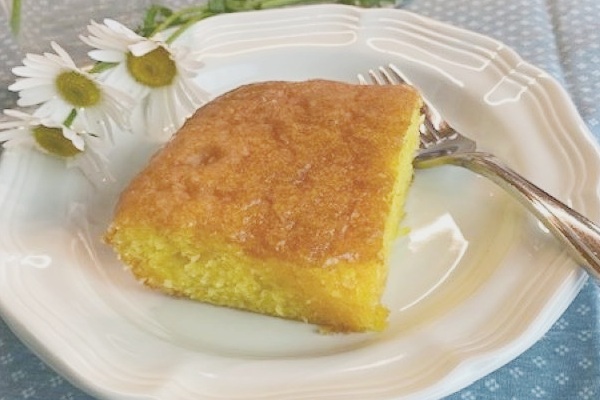 This simple lemon cake is a sunny, yummy classic. I still use a recipe from the 1960s that circulated among the staff at the bank where my mom worked when I was still in high school. My best friend Nancy had uncanny lemon cake radar and would mysteriously show up somehow whenever my Mom baked one. (Or, I called and told her!)
"When life gives you lemons, make lemon cake!" ~Nancy Rogers Williams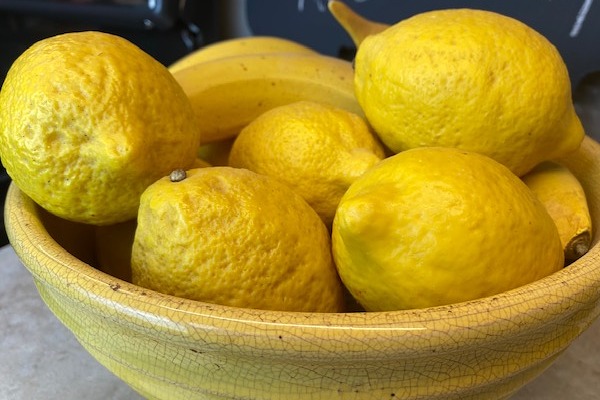 Eventually, the bank employees put together a cookbook. The lemon cake recipe, along with a few other favorites, was typewritten on a manual typewriter. (there are LOADS of good recipes in that little book!) The instructions were often incomplete, and the staff made it on a mimeograph machine!
Some of you will have to Google that term! But my age group still remembers turning the crank to make copies and the wonderful smell that emanated from the device!
The orange cover fell off my original copy of that little book, and it got lost when we moved from the farm. Two big blue rubber bands from celery held it together towards the end. The copy I have now belonged to my mom. As you can see, the cover has been taped. Between the pages are yellowed recipes she had clipped from newspapers.
The most-used pages are spattered with grease stains and bits of batter. The very best recipes in any cookbook are always bookmarked that way. And often, our favorite recipe cards in the box are stained, dogeared, and handwritten.
Working Women And Cake Mixes In 1969 Age Of Aquarius
In the 1960s, women began entering the workforce in large numbers. That changed what happened in kitchens everywhere. Cake mixes and instant pudding were embraced enthusiastically. Women became very creative in using them and invented all kinds of fun cakes and desserts with them.
It was a legendary age, to be sure. Audrey Hepburn, Jackie Kennedy, Marilyn Monroe, and lemon cake were all icons of an era. To this day, it's still a winner and a family favorite. Moist, dense, and topped with a slightly crunchy glaze. Pure bliss! It's great topped with ice cream, heaped with spring berries, or all by itself.
This awesome recipe uses a lemon cake mix and instant lemon pudding. It works best with a basic lemon cake mix, one without pudding in the mix or "extra moist." If you use a more deluxe cake mix, you often end up with a swaybacked cake with a caved-in center.
In my experience, the cheapest, most basic cake lemon cake mix works best. I stock up when I find a lemon cake mix on sale for 99 cents!
Here's How To Whip Up This Easy Delicious Cake In A Jiffy
Dump the cake mix, pudding mix, eggs, water, and oil together in a mixing bowl and beat it at medium speed until everything is well blended. Scrape down the sides of the bowl a time or two while you're at it.
Don't overbeat. The added pudding produces a thick batter. Stop mixing when everything is well blended. If you beat too long, the cake will poof up when it bakes like a '60's bouffant hairdo, then deflate.
I like to set the mixing bowl right in my sink, so any splatters are corraled and easily rinsed away! It's a lazy lady's time saver! Pour the batter into a 13″ by 9″ pan you sprayed or buttered. Bake it in a 350-degree oven for about 25 minutes.
While the cake is baking, stir up the glaze. You'll pour it onto the cake while it's still hot from the oven. It's just powdered sugar, lemon juice, and a little bit of oil. If you want to kick it up a notch, you can add some butter flavoring and lemon extract.
It's very important to bake the cake until it pulls back a little bit from the edges of the pan. If it's underbaked at all, the middle will sink, and your cake will taste great, but it won't be as pretty. The edges should look like this before you pull it out of the oven.
Fianlly Let's Add The Tangy Glaze The Finishing Touch
Now, while it's still hot from the oven, you'll poke it full of holes with a big fork. If you don't have a big fork, use the fork you have to make more holes! Poke, poke, poke!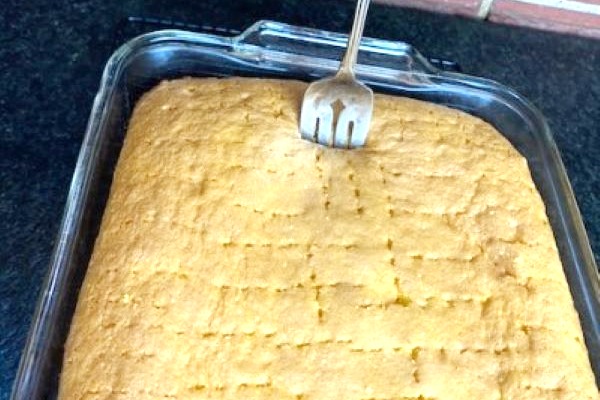 Now pour the glaze over the hot, thirsty cake. Use a rubber spatula to work the glaze into the cake, pulling it up from the edges of the pan until it's evenly distributed.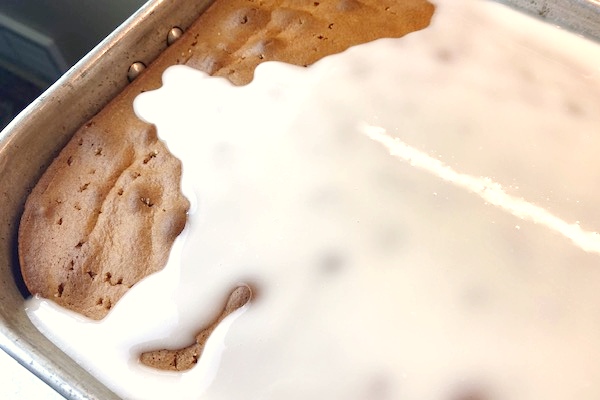 It looks perfect! Now, just let it cool and get ready for a treat! There are pictures from several different batches because I make it so often! It's a winner every time!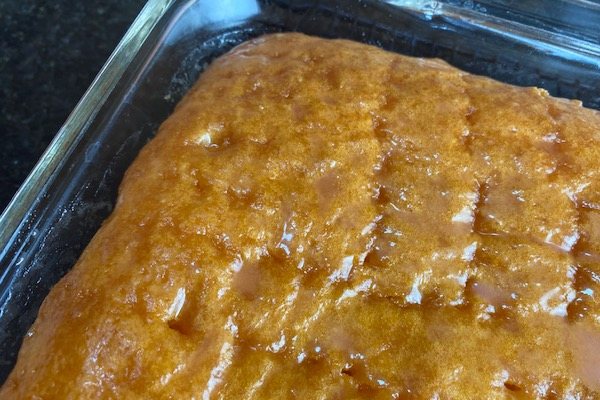 Lemon Cake Is Easy To Take Along It Travels Like A Champ
I love baking a lemon cake in a disposable pan, the ones with a clear plastic lid you can buy at the dollar store. There's no frosting to mess up in transit, so it travels well. This cake keeps for days, but in my experience, it never lasts that long!
It's always a favorite at a bake sale, church picnic, or funeral dinner. I've had so many requests for the recipe that I always tape a copy on top of the lid!
Yield: 15 servings
Best Lemon Cake Ever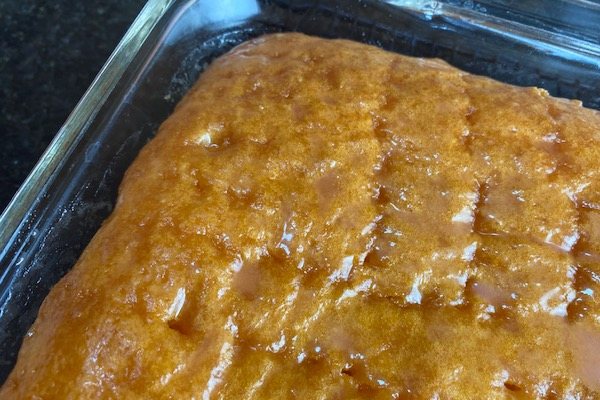 A moist, dense cake with a tart, crunchy, lemony glaze. This recipe has been around since the 1960s!
Additional Time
2 minutes
Ingredients
Cake:
1 box lemon cake mix without pudding in the mix
4 eggs
1 small box instant lemon pudding
3/4 cup vegetable oil
3/4 cup water
Glaze:
2 cups powdered sugar
1/3 cup lemon juice, you can also use orange juice or lime juice.
2 T. vegetable oil
1/2 tsp. lemon extract (optional)
1/2 tsp. butter flavoring (optional)
Instructions
Combine the cake mix, oil, eggs, pudding mix, and water.

Beat until well mixed but do not overbeat because you'll get a poofy cake that may sink in the middle.

Pour the batter into a sprayed 9" x 13" pan.

Bake for about 25 minutes in a 350-degree oven.

While cake bakes, mix the glaze ingredients.

To test if the cake is done, a cake tester or toothpick should come out clean, the top should spring back when touched lightly, and the cake should pull back slightly from the edges of the pan. Do not underbake.

While the cake is still hot, use a fork to poke holes all over the cake. Pour the glaze on the hot cake. Use a rubber spatula to coax the glaze into holes.
Nutrition Information:
Yield:
15
Serving Size:
1
Amount Per Serving:
Calories:

351
Total Fat:

16g
Saturated Fat:

2g
Trans Fat:

0g
Unsaturated Fat:

13g
Cholesterol:

51mg
Sodium:

313mg
Carbohydrates:

49g
Fiber:

1g
Sugar:

32g
Protein:

3g
If You're Real Lucky You Get A Corner Piece Of Lemon Cake
Who will be the lucky one?
True story. My grown daughters love this cake! But they ADORE the slightly crispy, glaze-soaked edges. When they think I'm not looking, they sneak pieces an inch wide all along the sides of the cake until it looks like an island in the pan!! It makes me laugh every time, but they know the best parts!!
More Recipes That Start With A Cake Mix
Triple Dark Chocolate Bundt Cake
Vanilla Poke Cake with Salted Caramel and Buttercream
GB's Candy Bar Poke Cake Recipe
Coconut, Chocolate "Almond Enjoy" Cake
When was the last time you ate lemon cake? Who baked it for you? Is it a great memory? Do you have a favorite cake that starts with a mix?
If you liked this recipe, you are my people! So please share this post on your social media accounts like Facebook, Instagram, Twitter, and Pinterest if you enjoyed this recipe today. It would sure tickle me, and I'd be ever so grateful, thank you!
If you haven't already, please check out my Facebook page, where I'll be posting easy, delicious, and family-friendly recipes every week!