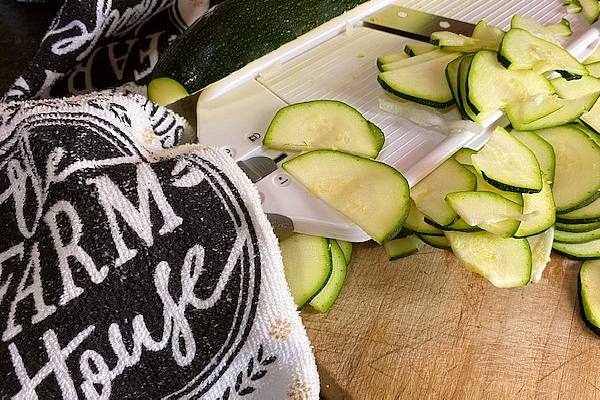 Zucchini is incredibly plentiful right now. In fact, if you leave your car unlocked, some overzealous gardener might slip a few in your back seat! Just kidding but here's a recipe you don't want to miss!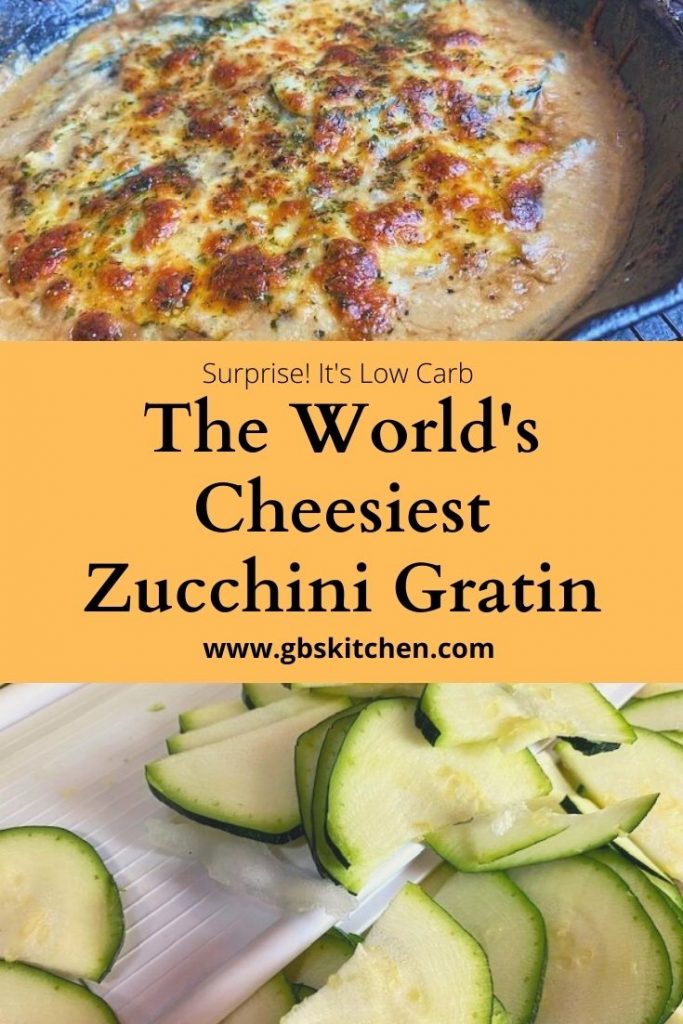 Smile And Say Cheese To The World's Best Zucchini Dish
Even picky eaters and finicky kids will gobble it up when you make it this way. It's loaded with sweet caramelized onions, cream, fresh Parmesan, and a bit of beef broth to give it a deep, rich flavor.
Then, it's smothered under a blanket of melty, browned cheese for the big win! And here's a major bonus! Believe it or not, it's low carb to boot.
Here's How You Make It
Melt half a stick of butter in a cast iron or another oven-proof skillet. Slice a medium-sized sweet onion nice and thin and saute it in the butter until it starts to get transparent and begins to brown a bit.
When that happens, add the garlic and saute it with the onions, stirring up any nice brown bits from the bottom of the skillet.
While that's cooking, thinly slice four cups of zucchini. If the zucchini is a bit large, cut the circles into half moons. I just split the zucchini lengthwise and sliced away. Simpler solution!
Next, add beef broth, cream, parmesan, and the salt and pepper to the skillet. Let it get all bubbly and hot. Smells absolutely amazing!
Now, put the zucchini in the skillet. Let it cook five minutes or so until it gets a bit tender. Stir it a few times as it cooks.
Finally, distribute a cup of your favorite grated cheese blend evenly over the top of the zucchini mixture. If you're like me, add a sprinkle of parsley and some paprika for a little extra color. Why? Because we eat with our eyes, too, right?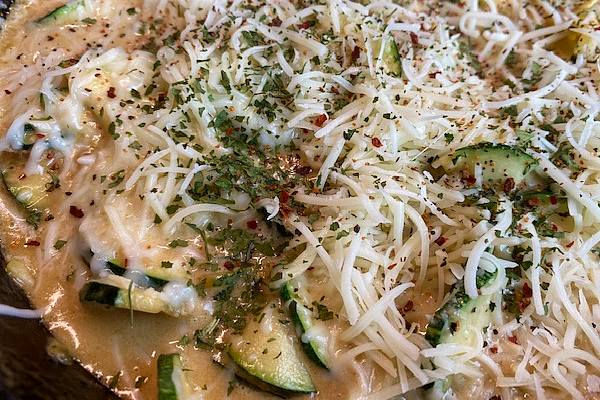 Now pop it in a nice hot oven for 12 to 15 minutes until it gets all bubbly and brown on top. Feel free to add more cheese if you like!
Now comes the hard part! Waiting until it's done while your kitchen smells like heaven! What an amazing aroma! Pure bliss!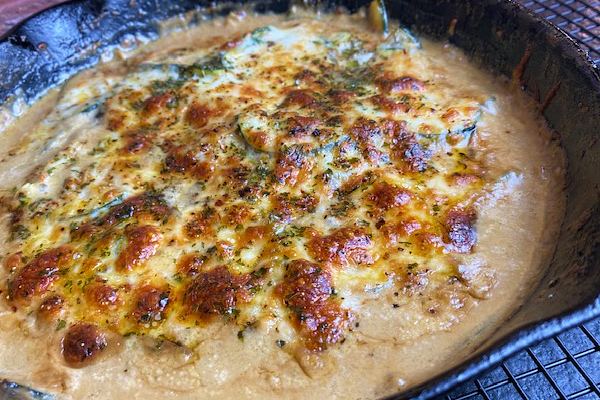 Check out that bubbly goodness with a topping of ever so slightly crispy brown cheese that crowns the skillet! This pairs beautifully with steak. It's a marriage made in heaven!
Yield: 8 servings
World's Cheesiest Zucchini Gratin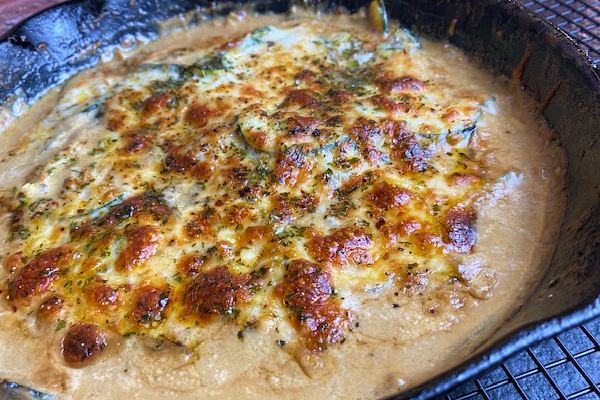 Zucchini even kids and picky eaters will gobble up! Caramelized onions, a bit of beef broth and cream give it a rich, satisfying flavor. Topped with bubbly cheese, this is a great side dish perfect for the season! Surprise! It's low carb!
Ingredients
4 cups thinly sliced zucchini
1 medium sweet onion sliced thin
1/4 cup butter
1 Tbsp minced garlic or use fresh if you prefer
1/2 tsp beef bouillon paste like Better Than Bouillon
1/2 cup water
1/2 cup fresh shaved or grated Parmesan cheese
1/2 cup whipping cream
1/2 tsp sea salt
1/2 tsp seasoned pepper
1 cup Italian blend finely grated cheese or more if you like
Parley for garnish, optional
Paprika for garnish, optional
Instructions
Preheat oven to 425 degrees.
Slice onion and zucchini thin. If zucchini is large, cut slices in half-moons.
In a 9" or 10" cast iron or another ovenproof skillet, melt 1/4 cup butter.
Add onions to the skillet and saute until they begin to caramelize and brown a bit.
Add garlic and saute another minute or two.
Dissolve the bouillon paste in water and add it to the skillet along with salt, pepper, Parmesan, and cream. Cook and stir until it's all nice and bubbly.
Add zucchini and cook until it starts to get soft and tender. Stir frequently.
Distribute cheese over top of the mixture, sprinkle on a little parsley and paprika if you like for extra color.
Bake in a 425-degree oven for 12 to 15 minutes until all bubbly and brown.
Nutrition Information:
Yield:
8
Serving Size:
1
Amount Per Serving:
Calories:

244
Total Fat:

20g
Saturated Fat:

12g
Trans Fat:

1g
Unsaturated Fat:

6g
Cholesterol:

57mg
Sodium:

612mg
Carbohydrates:

9g
Fiber:

2g
Sugar:

4g
Protein:

9g
Did You Know these Things About Zucchini Squash
I sure didn't! Here are some fun facts to dazzle your friends at cooking club!
Another name for zucchini is courgette.
We can thank Christopher Columbus for bringing squash from Central America to the Meditteranean about 500 years ago!
The kind of squash we called zucchini was first bred in Northern Italy and the word comes from Italian zucchino, meaning a small squash.
Technically, zucchini is a fruit even though we generally consider it a vegetable!
But one of the most interesting things about zucchini is its amazing versatility! It's equally at home in brownies as it is in soups or hearty casseroles. Zucchini chocolate cake is renowned for its moist and tender texture.
And who doesn't love zucchini bread? Here's a delicious recipe made with real butter!
Zoodles, spiral strands of zucchini, used as a replacement for pasta in many dishes, are one of the most recent uses of this beautiful green vegetable, er I mean fruit!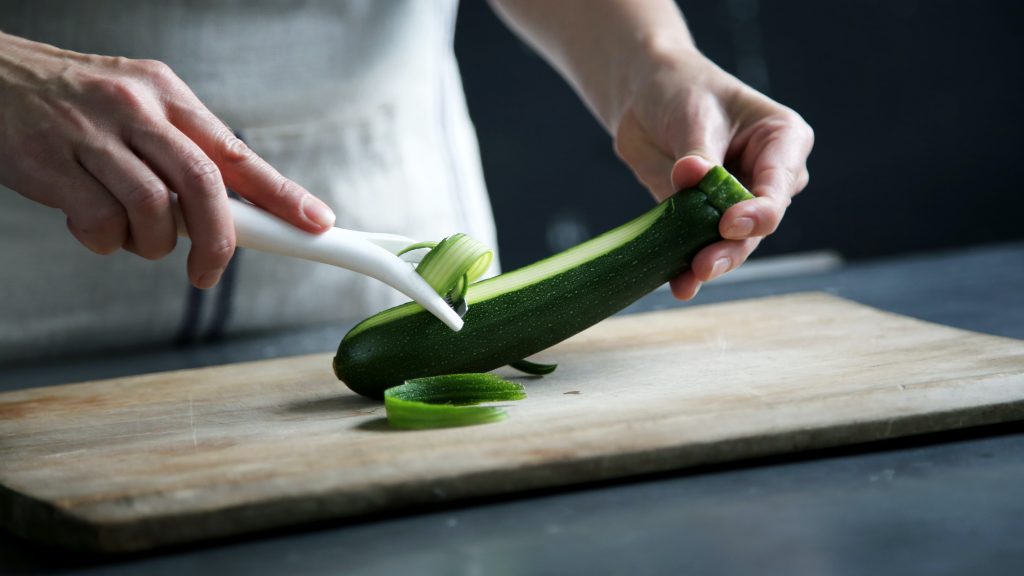 What is your absolute favorite thing to make with zucchini? Do you grow your own or do you make a beeline to the farmers market every weekend like I do?
If you enjoyed this recipe today, please share it on your social media accounts like Facebook, Instagram, Twitter and Pinterest. I'd sure be tickled and ever so grateful, thank you!
If you haven't already, check out my Facebook page where I'll be posting easy, delicious and family-friendly recipes every week!
Love, GB (Betty Streff)