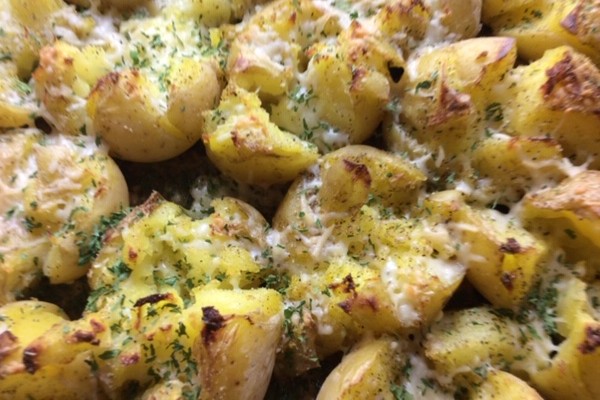 Impressive enough for company, easy enough for weeknights.
Hot crash potatoes are said to have originated in Australia which gives them a certain mystique and makes them sound sexy and charming. They are all that but they're also a workhorse side dish that's super easy to modify so it goes with whatever the "main dish du jour" happens to be!
In this version, I dressed these little Yukon Gold potatoes very simply with garlic and Parmesan which makes them a good fit with most any meat or chicken entree.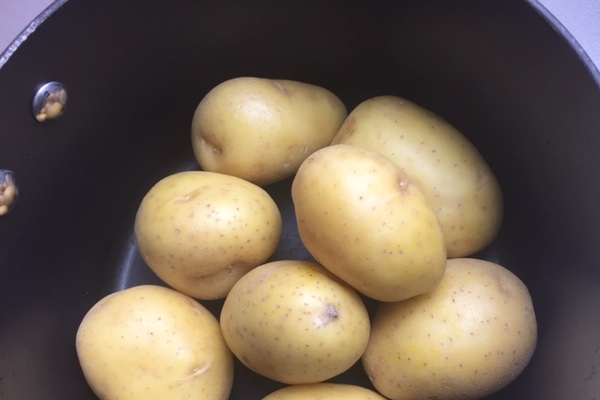 Start by boiling small potatoes
Easy! Boil in salted water until they're easily pierced with a skewer, then drain. Now drizzle a generous amount of olive oil on a sheet pan and plop potatoes in a single layer. Give each one a quick stomp with a potato masher or serving fork. Be sure to leave lots of craggy peaks to brown and get crispy. And do leave enough room so the potatoes aren't too crowded- that's the secret to a perfect crash tater!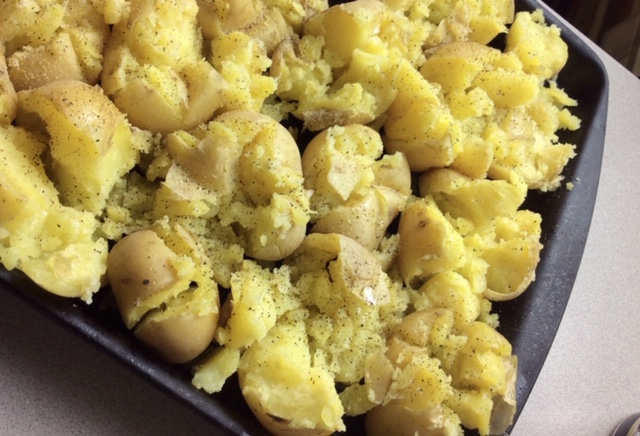 Drizzle with more olive oil, then salt and pepper generously.
Stop! Now, you can add the garlic powder like I did or season them however your mood strikes. It's hard to go wrong with a humble spud. Go crazy! Use a different kind of cheese, or melted butter in place of olive oil when baking them.
Slick trick: Try a classic herb like rosemary or dill instead of (or with!) the garlic. Taco seasoning would be great and you could add Monterrey Jack cheese, salsa and sour cream! Or, pick a dry Ranch, Greek or Italian dressing packet and change the whole vibe!
Just sayin', these potatoes can be "dressed for success" no matter what the main dish is! P.S. These are perfect with steak!
Easy Crash Hot Potatoes with Garlic and Parmesan
Crispy outside, creamy inside. Impressive looking, ridiculously easy to make
Ingredients
3

pounds

small "new" potatoes

4-6

Tbsp

olive oil

kosher salt

to taste, generous

pepper, coarse ground preferred

to taste, generous

garlic powder

to taste, generous

3/4

cup

fresh grated Parmesan

2

Tbsp

parsley
Instructions
Boil potatoes with skin on in salted water until easily pierced with a skewer. Drain.

2. Generously drizzle olive oil on sheet pan. Place whole potatoes on pan and mash with potato masher or serving fork leaving lots of peeks and please don't crowd them!

3. Drizzle with more olive oil, add salt, pepper and garlic powder.

4. Bake on top rack of oven at 425 degrees for about 20 minutes or until tips begin to brown slightly. Remove from oven, sprinkle with Parmesan and parsley. Return to oven for about 5 minutes until cheese melts and browns slightly.
If you enjoyed this recipe today, please share it on your social media accounts like Facebook, Instagram, Twitter and Pinterest. I'd sure be tickled and ever so grateful, thank you!
If you haven't already, check out my Facebook page where I'll be posting easy, delicious and family-friendly recipes every week!