We're a family with healthy appetites! We admit it, all of us love to eat!
There's an actual GB's Kitchen in Kearney, Nebraska. It's not a restaurant, it's in my little house and it's happiest when it's full of six long-legged grand kids gathered round the table. This sign was a gift from one family and it hangs right above my stove. Know what? It works!
Even before there were grand kids, there was my perpetually hungry husband, our two girls and their awesome husbands. (And I'll always say it, we won the son-in-law lottery TWICE!!) They're all what I call "appreciative eaters" and we could put away insane amounts of food long before there were six more of us! And I love cooking for a crowd.
This dish has been making the rounds under several names but we've simplified it to a semi-homemade version that goes together in a hurry and happily feeds a bunch of hungry teenagers. I guess it's what they call a "crowd pleaser."
I have to give credit to daughter Karen for streamlining this recipe. Her 17-year-old son Nick is always bringing friends for meals so she has to think big appetites! Sometimes she just dishes it up like goulash, skipping the baking. That way the kids can add cheese or not as they like. Easy-peasy!!
Start by boiling up a 16 ounce box of rotini in a big pot until it's "al dente." Use tri color if you like. Rotini is the perfect shape to hang onto a bunch of sauce when you dish it up!
While that boils, brown the ground beef and sausage together. Drain off any excess fat but don't get carried away! Fat is where the favor is so keep some of it! I absolutely swear by this Pampered Chef tool for breaking up the meat as it browns so it blends into the sauce beautifully.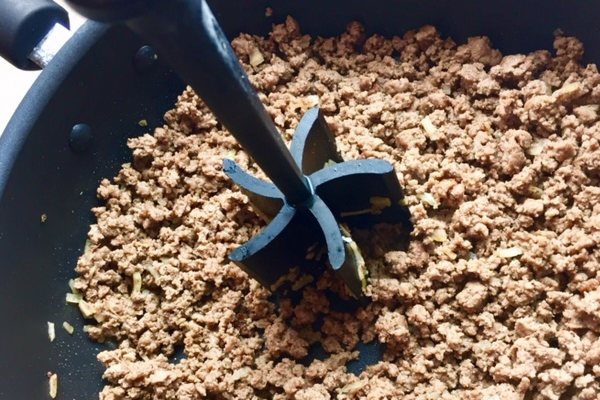 Drain the rotini, you don't need to rinse it. Put it back in the pot you cooked it in and then combine the sauce and meat mixture right in with the pasta.
Not all spaghetti sauce comes in quarts. Out favorite is Mister C's, born of the Caniglia's, a famous and well-loved Omaha restaurant family. If you need to, buy an extra jar of your favorite (it freezes well) but under no circumstances do you want to skimp on the sauce!! P.S. Your own homemade would be ah-may-zing!
Put that in a greased 13″ x 9″ casserole dish, dot with pepperoni, sprinkle on the "mozz" and "parm" (that's restaurant talk) with reckless abandon and bake at 350 degrees until the cheese is all melty and golden brown on top.
I always get carried away with parsley, you may have noticed. I've always maintained "we eat with our eyes" and parsley or a garnish seems to make everything just look tastier somehow. That's the part I do with reckless abandon and now you know my parsley fetish!!
Make it when you've got a houseful. It's become a "fave" with us. Serve up with some good bread and a vegetable or salad. Fresh fruit would be good too. That and stretchy pants!
Hungry Boy Three Meat Pasta Bake
A hearty semi-homemade pasta dish that's quick to put together and tastes amazing!
Ingredients
1

pound

ground beef

1

pound

bulk sausage

your favorite brand

8 oz

package

sliced pepperoni

cut slices in half

16 oz

box

rigatoni

use tri color if you like

1

quart

favorite spaghetti sauce

1 1/2

cup

shredded mozzarella (or more if you love cheese!)

1/2

cup

grated Parmesan cheese (or more!)

1

Tbsp

parsley, for color
Instructions
Cook pasta to al dente in large pot according to package directions. Drain, do not need to rinse, return pasta to pot.

Brown sausage and ground beef together, drain off excess drippings.

Combine sauce and meat mixture in pasta pot.

Spray a 13" x 9" pan with non stick spray. Put pasta/sauce/meat mixture in pan. Arrange pepperoni evenly over pasta. Sprinkle mozzarella and Parmesan over top and bake at 350 degrees until cheese gets all melty and lightly browned.
If you enjoyed this recipe today, please share it on your social media accounts like Facebook, Instagram, Twitter and Pinterest. I'd sure be tickled and ever so grateful, thank you!
If you haven't already, check out my Facebook page where I'll be posting easy, delicious and family-friendly recipes every week!