Ah, homemade beef noodle soup. Tender beef. Yummy noodles. Comfort food extraordinaire! And with an Instant Pot, you can get that simmered-all-day flavor in about an hour and a half from start to finish!
I used my new favorite cut of meat, boneless beef ribs, in this recipe. The meat is full of flavor and super tender when cooked in an Instant Pot. Also, it's very economical because there's almost no waste.
I was late to the Instant Pot party, but I've known about the magic of pressure cooking for years. I was a child bride but even before that, I was a child cook!
On our first Christmas together, my young husband gave me a pressure cooker! What a romantic, right? But you know what? I loved it and used it for years until the handles broke off and the parts were no longer available!
How To Unlock The "Souper Powers" Of Your Instant Pot
Today's Instant Pot is ingenious. It combines multiple functions in one handy, safe, and easily cleaned device. I sincerely hope whoever invented it is filthy rich. Kudos whoever you are!
First, the saute function makes quick work of browning the meat. That is a critical step to achieving a beautiful, rich broth, which is, without question, what makes great soup great. As they say in the song, it's all about the base, right? (tee hee)
So, that's where a rich, hearty broth begins. Season and brown the beef, and don't overcrowd the pot when you do. The beef needs to sear and brown, not steam. Don't hurry this step.
Remove the meat and set aside while you add the bouillon, garlic, soy sauce, and water. Stir to loosen up all the browned bits of goodie from the bottom of the pot. Return the beef to the pot and pressure cook for about 40 minutes.
While the beef is cooking, slice some celery and carrots to add to the soup and chop some onion, too!
The beef will look like this when it's done. Tender, juicy, awesome. Look at the gorgeous soup base it makes!
Next, shred the beef and set it aside while you make the rest of the soup.
Reset the Instant Pot to saute and add water. When it comes to a boil, add the vegetables and noodles. Adjust the saute setting to a good simmer and cook until the veggies and noodles are tender.
Return the shredded beef to the pot and adjust seasonings to taste. You might want to add a bit more bouillon but taste it first!
Add salt and pepper to taste, if you like, and parsley! There's something about parsley that makes everything taste better, like green magic!
And The Next Thing You Know It's Beef Noodle Soup And Suppertime
Now, proudly ladle up steaming bowls of your homemade, yummy beef noodle soup! It's a complete meal all by itself! But if you want it to be even more wonder-fuller, serve it with thick slices of this super easy Rustic Dutch Oven Bread to go with it!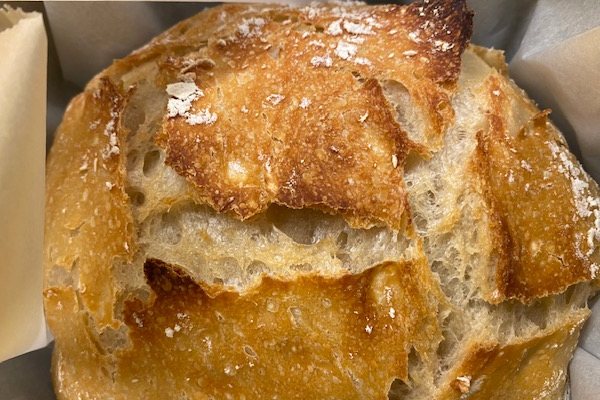 The crisp crust and chewy middle make it perfect for dunking and sopping up the yummy broth!
Yield: 12 servings
Instant Pot Beef Noodle Soup
Tender beef, celery, and carrots combine with noodles in a rich, hearty beef broth.
Total Time
1 hour
10 minutes
Ingredients
2.5 to 3 pounds boneless beef ribs, excess fat removed.
2 Tbsp olive oil
2 tsp seasoned salt, we like Lawry's brand
1 tsp seasoned pepper, we like Lawry's brand
2-3 Tbsp paste type beef base, we like Better Than Bouillon
1 Tbsp soy sauce
1 Tbsp minced garlic
10 cups water, divided
1 1/2 cups sliced carrots
1 1/2 cup sliced celery
1/2 cup chopped onion
1 Tbsp or more dried parsley
 12 ounce bag of wide egg noodles
Instructions
Set Instant Pot to saute function and heat olive oil.
Cut ribs into 3"-4" pieces
Season meat generously with salt and pepper, pressing it into the meat.
Saute a few pieces at a time until well browned on all sides. Do not hurry this process.
Set meat aside.
Put 2 cups of water, soy sauce, garlic, and bouillon in the pot and stir well until all little brown bits are loosened from the bottom of the pot.
Return meat to the Instant Pot and pressure cook on high for about 40 minutes.
While that cooks, slice carrots and celery and chop the onion. Set aside.
Remove beef from the pot, remove any remaining fat, shred and set aside.
Reset Instant Pot to saute.
Add 8 cups of water to the pot and bring it to a boil.
Add carrots, celery, onion, and noodles to the broth.
Adjust saute setting to a good simmer and cook noodles and vegetables until they are tender.
Add beef and parsley to broth and heat through.
Adjust seasonings and add bouillon if desired.
Nutrition Information:
Yield:
12
Serving Size:
1
Amount Per Serving:
Calories:

486
Total Fat:

35g
Saturated Fat:

13g
Trans Fat:

0g
Unsaturated Fat:

17g
Cholesterol:

109mg
Sodium:

1490mg
Carbohydrates:

11g
Fiber:

1g
Sugar:

1g
Protein:

30g
Soup season is upon us! What an easy way to make it, in one easy-to-clean pot! You can reheat any leftovers right in the Instant Pot! Everyone knows soup tastes even better the next day!
And raise your hand if you're in favor of fewer dishes to wash!! Me! Me!
What's your very favorite soup recipe? I'd love to add yours to my collection so please share!
If you enjoyed this recipe today, please share it on your social media accounts like Facebook, Instagram, Twitter and Pinterest. I'd sure be tickled and ever so grateful, thank you!
Love, GB (Betty Streff)